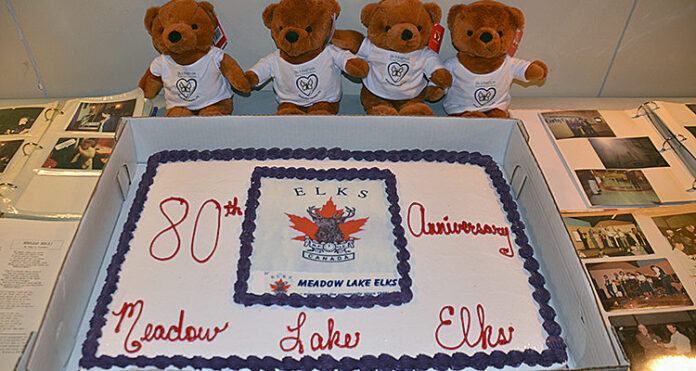 by Phil Ambroziak
Eighty years of giving back to the community is something the Meadow Lake Elks can certainly be proud of.
That was the general consensus of the small crowd in attendance for a special dinner to mark the Elks' 80th anniversary Saturday night at Sergent Hall. In addition to a catered meal, the event also featured a series of special guests including deputy-mayor Merlin Seymour who brought greetings from the City of Meadow Lake.
"Eighty years of volunteering in the community, wow, what an accomplishment," Seymour remarked. "Whether it be donating to various projects or organizations such as the Meadow Lake and District Music Festival, Carpenter High School's scholarship fund, the Door of Hope or the Salvation Army's Empty Stocking Fund to name only a few, or taking on projects like the Elks' fruit sale, as well as the annual family fish derby, the local chapter is an important part of our community. Thank you to you all for all your contributions."
This was echoed by RM of Meadow Lake reeve Tim McKay.
"It's good to see a service group that's been here for so long," McKay said. "We would be far less of a productive community without you. You have donated your time graciously and put some really good projects forth to the community. Many of your members are RM people, so thank you and good luck in the future."
Also on hand for the anniversary was Ron Potter, the grand exalted ruler of Elks of Canada.
"It is indeed a pleasure to be here in Meadow Lake," Potter said while addressing the locals. "It wasn't on my bucket list, but, regardless, I'm here. It has been a wonderful year for my wife and I. We've been all over northern Saskatchewan, northern Alberta northern B.C. and northern Manitoba so far."
Potter went on to describe a recent visit he made to another community where he presented a pin to a long-time member of the Elks.
"If he had been a member of your lodge, he would have been a charter member," he noted. "Eighty years he's been a member. He's 102 years old and a wonderful man, and I'm so happy we were able to celebrate that with him… We get to meet so many good people in so many different communities. And, I'm finding a lot of good things in all these communities, including yours."
Potter then presented local president Roland Lalonde with a certificate commemorating the 80-year milestone, as well as a cheque which will serve as donation – in the name of the Meadow Lake lodge – in the amount of $80 for the Elks and Royal Purple Fund for Children.
Meanwhile, another special guest included Eugene Hartter, the Elks' provincial president. He said his goal this year is to spread the word as much as he can when it comes to letting people know exactly what it is Elks lodges do for their respective communities. This, he hopes, will lead to a better understanding and greater interest, which could lead to new members coming on board.
"We've never stopped and given each other credit for what we're doing," he said. "But, the Elks here, for 80 years, have done a lot of work. The money you raise is terrific. The work you do in the community is terrific… it's time for us older guys to take what we have done in the past and blurt it out. Let the young kids and people who aren't Elks realize who we are and what we do. I congratulate Meadow Lake on 80 years, but keep working on new memberships. If you let people know what we've done, maybe more people will step up and join."
Currently, the local lodge has fewer than 20 members. The oldest, however, is Sergius Stupka who Hartter presented with a key chain Saturday night before presenting a plaque to the club as a whole.
Next up, district 3 representative Ron Boerrichter also offered his congratulations to Meadow Lake.
"I've been district rep about 13 years or more. and it's always a pleasure to come to Meadow Lake," he said.
Other lodges in the district include Cut Knife, North Battleford, St. Walburg and, until recently, Glaslyn which folded last year.