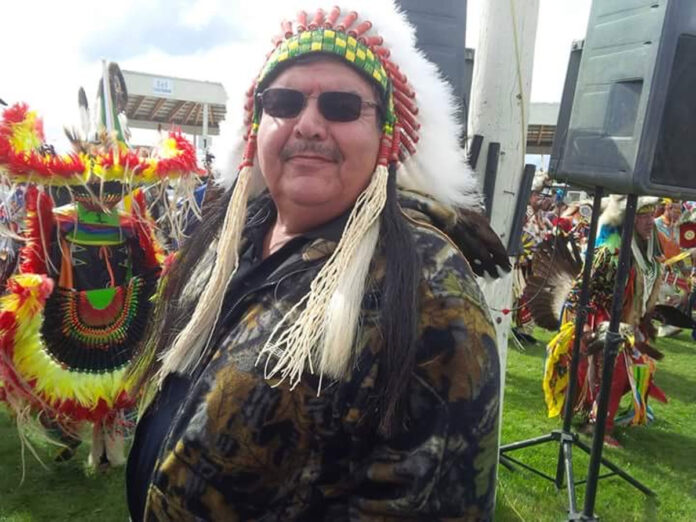 The Meadow Lake Tribal Council (MLTC) lost a former vice-chief when Oneill Gladue passed away unexpectedly Jan. 26. His family, however, lost much more.

"His presence was huge," remarked Gladue's daughter, Melinda Morin. "I will always remember his signature laugh, his huge personality, and his big bear hugs. He had a way of making me feel important and valued in his life. He was big on learning and preserving our cultural and family ties. He played a huge role in (Flying Dust First Nation's) annual powwow and was working on funding to finish our new arbor (before he passed away). He is the reason I got involved in our powwow. My dad was very opinionated, very passionate, and forward thinking when it came to First Nations politics, community, and development."

Oneill Joseph Ernest Gladue was born Feb. 24, 1954 and raised on Flying Dust by his kokum, the late Flora C. Gladue.

"He and his siblings were raised by a strong woman who showed them how to work hard, work with animals, tend to a garden, hunt for their food and pick berries," Morin continued. "My daddy spoke fondly of his siblings and family, the years growing up, and still living on the land where he was raised."

Gladue did leave Flying Dust for a time, however, when he attended university where he earned an education in agriculture before returning home to work on the band farm.

"He was a fluent Cree speaker and had a hand in the overall general development of the Meadow Lake Tribal Council and served as vice-chief for 16 years," Morin said. "He oversaw a lot of different programming such as economic development and self-governance. He wanted what was best for his community and the First Nations."

Later, Gladue decided to change careers and took a job with SaskTel.

"My dad also was a business owner and found his work very rewarding through Matchee Outfitters," Morin noted. "He made many close friends through his outfitting business and always followed protocols with regard to harvesting the meat."

Gladue also dabbled in pony wagon racing.

"I even recall a time he flew from the wagon box and got ran over by the horses," Morin said. "He was a tough, big man with a huge heart. He liked to golf, hunt, fish, and, back in his glory days, he liked to play ball. He has many friends and family across Saskatchewan, Canada, the U.S. and beyond who have great memories to cherish."

As a father, papa, and chapan, Morin added, Gladue often spoke about the importance of family.

"And, he was always there to listen, celebrate, cook, and take photos," she said. "My father raised us the only way he knew how, by protecting us, sheltering us, and most of all, working hard to provide a loving home for us. His legacy will live on in his teachings and through the respect and love he had for his community, family, and friends. Go rest high on that mountain, dad. Your work on Mother Earth is done. Until we see you again."