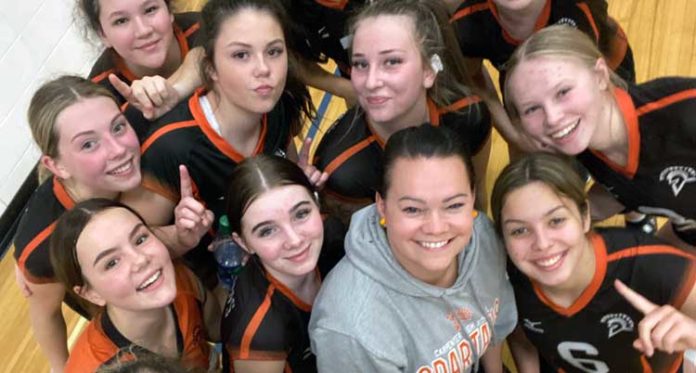 After a one-week break, the Carpenter High School boys 'A' volleyball team was back on the court for the final regular tournament of the 2022 season.

"We were at St. Mary High School in Prince Albert this past weekend (Nov. 4 and 5) for one last tournament so we could try to get things together, get some touches in and to start to prep for regionals and for provincials which are coming up next," explained CHS coach Cheyne Dallyn.

As for the P.A. tournament, CHS finished second in its pool on the first day.

"We beat the St. Mary senior team, and we defeated Melfort and La Loche, but lost to the St. Mary junior team," Dallyn said. "In the crossover match Saturday morning, we played Melfort again and defeated them."

In the semi-final round, CHS squared off against Carlton Comprehensive from Prince Albert.

"We managed to pull out a tight one in three sets, then met St. Mary in the final losing two straight to finish second overall," Dallyn said. "The performance by our boys was fantastic. We needed some guys to step up, and they really did so, which is what you want to see in that situation. A lot of our older players stepped up and started playing at the level we need them to be playing at over the next few weekends. Going into regionals, we're hoping to be one of the top teams while, at provincials, we're hoping to make it to playoffs and see where things go from there."

The CHS boys are off this coming weekend before heading to regionals the following week at John Paul II Collegiate in North Battleford and provincials the weekend after that back in Meadow Lake.

"Hosting an event like provincials takes a lot of planning and a lot of volunteer work," Dallyn said. "All of that will come into play these next couple of weeks, but we know we have the community support and we hope we can get the fans to come out that weekend because it will be a big one for us."

Meanwhile, the CHS girls 'A' team battled the weather and made their way to Melfort for a tournament this past weekend.

"Here the girls had their best tournament of the year," remarked CHS girls coach Desirée Klarner. "In the round-robin, the girls either split or won all their matches against the five teams in their pool. This placed them second heading into the quarters."

In the quarter-finals, CHS faced Evan Hardy Collegiate of Saskatoon, taking the win in two straights sets. This landed them in the semi-finals.

"In the semis, they matched up against the home team where they also battled and again beat them in two straight," Klarner said. "The girls were riding a high heading into the gold medal match against Nipawin. Nipawin is a strong team and is also the 4A provincial host this year. The girls came out on fire and were unstoppable. Their passing, hitting, and serving was on point. The girls marched themselves straight to a two-set win over Nipawin and developed quite a rivalry between the two teams."

Klarner said it was a very exciting game to watch.

"I am very proud of the girls for bringing home the gold medal in their last tournament of the year," she said. "The girls have peaked at the right time and are pumped about hosting regionals at home."
by Phil Ambroziak