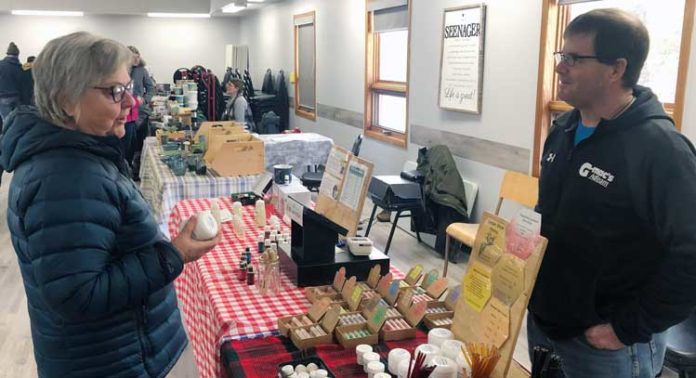 There's no excuse for not buying a last-minute Valentine's gift for that special someone.

That's because, on Feb. 11 from 10 a.m. to 3 p.m., a first-ever Valentine's Day market will be held at the Senior Citizens' Activity Centre in Meadow Lake. The event is being organized by local residents Glenn McCrimmon and Amber Ambroziak.

"The both of us were talking and, while there are Christmas markets from the end of November until the middle of December, nothing else like that really happens until the Easter markets get underway in the spring," McCrimmon explained. "We thought, why don't we hold an event leading up to Valentine's Day? People want to get out and do things, so we decided to get some vendors together and to put this event on."

Ambroziak echoed this.

"It also helps the small, at-home businesses," she said.

The response to the event, meanwhile, has been significant in terms of vendors as well as people planning to attend.

"The response was actually mind-blowing," McCrimmon said. "Within four hours of booking the activity centre, our spots were all filled in terms of vendors. We even have a waiting list."

Ambroziak also said invites were issued to potential vendors and the response was overwhelming.

"Everyone we asked immediately said yes, and we couldn't even get invitations out to other people we know because the first group already confirmed they would take part," she said. "We feel bad because there were so many people we couldn't get to. Perhaps, for future markets, we can look into booking a larger venue. If this one is a success, maybe we can look into organizing even more markets at different times throughout the year."

McCrimmon agreed.

"We don't want this to be a once a year thing," he said. "We want to definitely have more markets throughout the year… The Meadow Lake Farmers' Market held a special Christmas market at the activity centre in December, and that was probably one of the busiest ones I have seen. I believe people are just sick of being stuck at home for the past two years, they want to get out so let's give them something to go out to."

The Valentine's Day market will feature a variety of items including baking, jams and jellies, candy, scented candles, scented oils, a local coffee brewer, beaded items, shiny stones and more.

"There's going to be a lot to choose from," Ambroziak noted.

McCrimmon echoed this.

"It's a perfect opportunity to pick up a last-minute Valentine's Day gift," he said.
Admission to the market is free, and there will be door prizes and a 50/50 draw.
"Come check out the market, and vendors who didn't get to be part of this one, you can always contact Glenn or I and we can put you on the list for the next market we organize," Ambroziak said.

McCrimmon, meanwhile, shared one last piece of advice.

"Don't be the person who forgets to buy a Valentine's Day gift this year," he said.
by Phil Ambroziak