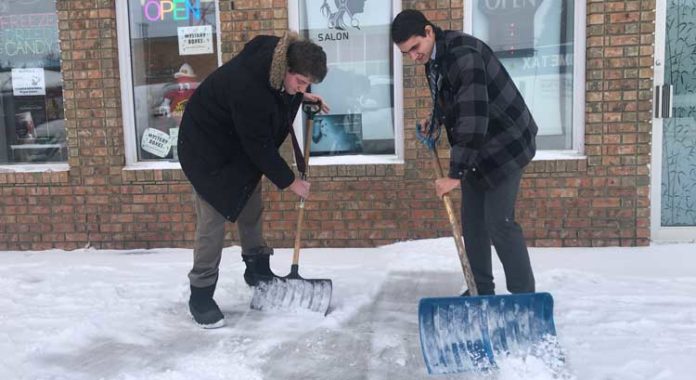 A little help can go a long way.

Two young visitors to Meadow Lake have come to understand this, as their generosity and willingness to help others have made their stay in the community a welcome one.

"It's been pretty good so far – the people here are really nice," remarked elder Trae Duce of High River, AB.

Duce, along with elder Travin Jensen of Raymond, AB, is currently serving in Meadow Lake as part of the Church of Jesus Christ of Latter-day Saints' missionary program. Latter-day Saint missionaries can be seen on the streets of hundreds of major cities in the world as well as in thousands of smaller communities, while the missionary effort is based on the New Testament pattern of missionaries serving in pairs, teaching the gospel and baptizing believers in the name of Jesus Christ.

"I've been here for a couple weeks," Duce explained. "As missionaries, we go around, we help people out, we teach lessons about Jesus Christ, we help out the community any way we can, and we help out at our church."

One way the duo has been helping out since arriving in Meadow Lake has been by offering to shovel people's driveways free of charge. It's a service Jensen said has proven quite popular.

"We've had a few people contact us about shoveling, and we are more than happy to do that for them," he said. "It brings me joy, and I love seeing the people's reactions when we tell them it's free."

Duce agreed.

"We just enjoy doing good deeds," he said. "We have done this kind of thing in many different places we have served. At the last place I served, someone asked all kinds of questions about it because they were sure there was some sort of hook, but, no, if anyone ever needs our help, give us a call."

Overall, the missionary program is a two-year commitment.

"I have been out for nine months and have already served in Brandon, MB, Fort Frances, ON and the Carry the Kettle reserve," Duce said. "The main reason we do this is because we are disciples of Jesus Christ, and Jesus Christ served people. On top of that he also taught lessons, so we're just doing what we can to help people out and to let them know they're appreciated."

This was echoed by Jensen.

"Usually we stay at one location for about six months," he noted. "I've been in Meadow Lake for two months and, overall, have been doing missionary work for about 15 months. I've served in Swift Current, the Carry the Kettle reserve, have gone up to Thompson and am now in Meadow Lake."

In addition to their free snow shoveling service, the elders also volunteer at the Door of Hope where they help serve meals, the local food bank and the Meadow Lake and District Humane Society.

"We just want to help out the community in whatever way we can," Jensen reiterated.

The duo won't be in Meadow Lake for long, however, and will soon be replaced by two new missionaries who will continue the work Duce and Jensen have been doing.

"We get word we're swapping out only about a week or so before we move on," Duce said.
Anyone looking to connect with the missionaries can do so via Facebook or by calling or texting 306-240-9068.
by Phil Ambroziak