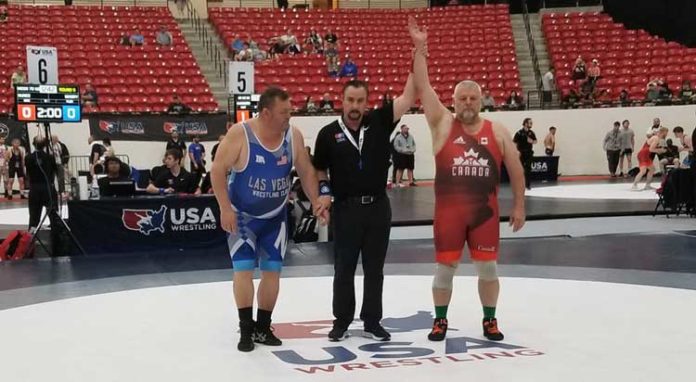 Meadow Lake's Chris Brownrigg doesn't just talk the talk, he walks the walk.

Recently, the head coach of the Northern Pikes Wrestling Club and the Carpenter High School wrestling team donned the tights himself to compete at U.S.A Wrestling's 2023 U.S. Open Masters Nationals event held April 26-30 in Las Vegas, Nevada. Brownrigg competed in two events, finishing first overall in his weight class in Greco-Roman and claiming third place the following day in the freestyle tournament.

"On the first day, I was in a group of four athletes," Brownrigg explained. "I was also the oldest in the group – most of the other guys were a year or so younger than me. The freestyle tournament also involved another group of four, so they were not super big pools I had to fight through. But, man, were they some big dudes."

Brownrigg went on to share how proud he is to have won the Greco-Roman tournament.

"The real fun part of the whole experience is we're all kind of at the same stage in life," Brownrigg said when referencing his opponents. "We were all wrestling less for competitive reasons and more for the camaraderie and the love for the sport. Everybody picked each other up and shook hands well. They were great gentlemen to compete with. Yes, on the first day, I managed to be the top wrestler on that day. The biggest challenge, however, was getting there. I lost between 25-30 kilograms to get down to the heavyweight division and that's probably more important long-term than the individual win. Still, it's nice to have a little bit of bragging rights and maybe it will give me a little more street credibility in the wrestling room and with the kids. If anything, it definitely serves as motivation to keep losing weight and to get down to a smaller weight class."

And, although the end result wasn't as successful for Brownrigg when he competed in the freestyle tournament, he is still pleased with how things turned out in the end.

"In my first match, I went up against an incredible athlete," Brownrigg noted. "He tuned me up pretty quickly, but did so in a forceful yet gentle way. I was able to win my second match, while my third match was kind of a rarity because I had a chance to win silver."

He went on to say, normally, wrestlers earn a silver medal when they lose in the finals.

"Because we were a four-person round-robin, it turned out to be a match to win silver," he stated. "I had a bit of a lead and a strong position, but I got behind and tried to turn this guy. He was just rock solid. It was like trying to turn the Earth – it was just not happening. He is a corrections officer from the U.S. who does prisoner transport. He was no average Joe – he was a serious dude. He ended up pinning me, and I took home the bronze. I was just pleased I walked off the mat under my own power."

Meanwhile, as to what sort of inspiration his win will instil in the young wrestlers he coaches, Brownrigg said he is not overly concerned about his actions in Vegas fuelling any desire to be a role model.

"It's the reverse, actually," he said. "The young wrestlers are an inspiration to me. I only had to wrestle in this tournament. I went through all the anxieties I think all wrestlers go through, and I'm a grown man. I think about the kids in Grades 5-12 who have the courage to step up and do this all the time. I'm very proud of all the kids on the team and I hope going through that emotional process helps make me a better coach for them."

As to why he felt this was the time to finally lace up his wrestling shoes once more, Brownrigg said that had much to do with the recent passing of his brother, Garry.

"Life is short and you need to get on with stuff and stop saying 'I'll do it next year,'" he said. "Before COVID, I came across a website that lists the various world championships wrestlers can compete for, and, until then, I didn't realize there was wrestling available for old codgers like me. It's been in my head for a few years and I was hoping to do this before the pandemic, but I didn't have a chance. Then, during COVID, I became much heavier and I had to work to get down the weight. I would like to compete at worlds, but, for now, I am going to keep training and see where we get to by the fall. I will probably hold off on worlds until next year."

In closing, Brownrigg again acknowledged the young athletes who encouraged him to step back on the mat.

"I intentionally wore the Northern Pikes singlet, as well as the Carpenter High School singlet at different times during the tournament," he said. "I also had the privilege of wearing the Wrestling Canada singlet. I wore the same singlets the kids wear because it's the club and the Spartans that ultimately made this happen."
by Phil Ambroziak