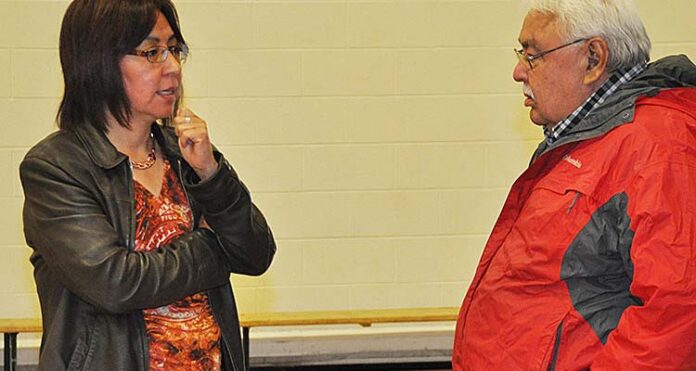 by Phil Ambroziak
The 42nd Canadian general election may be over, but one more trip to the polls still awaits the people of La Loche.
Although a date for a municipal by-election has yet to be set, current La Loche mayor Georgina Jolibois will be stepping down from the position following the Oct. 19 federal vote that saw her elected MP for the Desnethé-Missinippi-Churchill River riding. Jolibois, representing the NDP, secured 10,300 votes, only 70 more than Liberal candidate Lawrence Joseph's 10,230. Incumbent Conservative candidate Rob Clarke finished third with 9,110 votes while Warren Koch, representing the Green Party, garnered 552.
"I'm very thankful and grateful for the support I received from constituents and I look forward to working for everyone in the riding – for everyone in northern Saskatchewan," Jolibois remarked following her victory.
While election nights often find candidates mingling amongst supporters at their campaign offices or some form of public venue, Jolibois opted to spend the evening at home watching the results as they were announced on TV. Afterward, however, she welcomed a barrage of friends, family and other well wishers for a small gathering.
"It was a great time," she added.
As for her plans moving forward, Jolibois reiterated her desire to be a voice for the entire constituency.
"The North needs a strong voice," she said. "There are many issues facing our riding. Food security is one of them, as well as First Nations and Métis rights along with the economy and a number of other issues."
Meanwhile, even though the final result was a close one between her and Joseph, Jolibois said she isn't going to dwell on the possibility of a recount.
"That's not up to me," she said. "Elections Canada made the call. As far as they're concerned, I'm the winner, but if anything arises I'm sure they'll contact me."
Joseph agreed, stating it would be up to Elections Canada to analyze the situation. However, reports filed in the wake of the election indicate the Liberals are pondering such a possibility. Meanwhile, Joseph stressed how disorganized he felt the election was in some parts of the riding where there weren't enough ballots to accommodate the number of voters in attendance.
"That may have had some impact on the final numbers because there may have been people who just said 'to heck with it' and didn't bother coming back to vote," he said. "There should be an investigation, not only for this one but to pave the way for future elections."
Joseph, who spent election night at the Big River First Nation school, also said he was happy to see so many people take part in the election.
"It was quite surprising in the sense I didn't expect the NDP (in this riding) to do that well," he said. "But, this riding has always been unique in many ways. And, the surge of aboriginal voters is very encouraging."
This 2015 federal election saw 30,192 ballots cast in the riding out of an eligible 44,320. This is an improvement over the 2011 election, which saw only 22,023 of the 43,739 eligible voters exercise their democratic right.
Nationally, Justin Trudeau's Liberal Party earned 184 seats to the Conservative's 99, securing a majority government and Trudeau's spot as Canada's next prime minister.