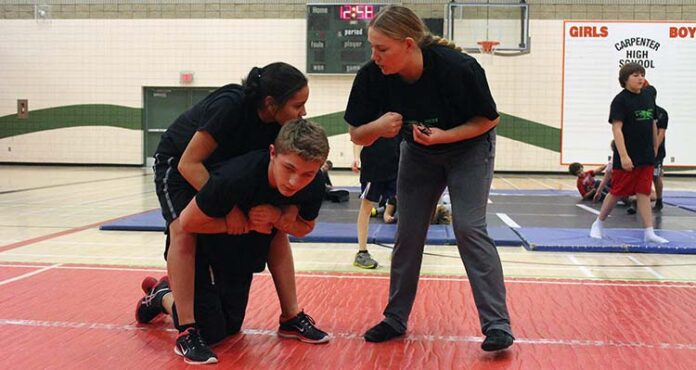 by Derek Cornet
The Northern Pikes Wrestling Club hosted a one-day camp Nov. 21 at Carpenter High School in Meadow Lake where numbers surpassed organizers' expectations.
"We had to run out and get more food," said Chris Brownrigg, this year's wrestling coach. "It's a bigger success than we hoped for."
In total, 60 wrestlers competed including members of the local club and others from Buffalo River Dene First Nation, Goodsoil, Prince Albert and Wilkie.
The camp marked the first major event of the season for the club, which has been active for about a month. Brownrigg said the camp is held every fall and is supported by hired technical coaches from other wrestling clubs. He noted the camp is important because it gives athletes the opportunity to train with a different coach, who can provide a unique insight or perspective the participants otherwise wouldn't get.
"The calibre of some of the wrestlers we have here is high," Brownrigg said of the club. "We have athletes who are definitely tracking toward Olympic capabilities."
Amongst the athletes at the camp who Brownrigg noted for their skills were Arlan Lumgair, Evan Eide and Leroy Murray. He added, Eide and Murray both competed at the Western Canada Summer Games in Fort McMurray this summer. Eide won a bronze medal at the event.
Meanwhile, Brownrigg went on to say the club is growing and currently has 47 wrestlers registered. The number of girls participating in wrestling is also rising, which Brownrigg noted is good because he's made an effort to generate more interest.
"We have a large group of young ladies this year," he said. "That's one of the things I've been working on – expanding the girls side of the program."
Also at the camp was Goodsoil wrestling coach Tim Biggins. He began a club in Goodsoil in September after teaching the sport to students on Big Island Lake Cree Nation. Biggins reiterated many of Brownrigg's points about the camp, but added he learned a lot too.
"I was teaching foot work and head control," Biggins remarked. "I used a variety of drills. I actually gained a lot of information from the older wrestlers. They helped me, as I've only been coaching younger kids."