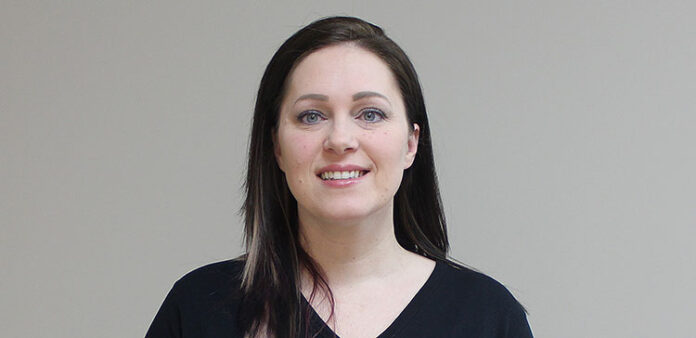 With the holiday season quickly approaching, Meadow Lake's Gail Watson-Payne and other members of Beta Sigma Phi are preparing for the Holly Berry Craft Fair. Recently, Northern Pride spoke with Gail about the sorority, how she came to live in Meadow Lake and her Ukrainian roots.
Q: Tell me about the Holly Berry Craft Fair.
A: It's going to be held this Saturday (Nov. 28). It's organized by Beta Sigma Phi, which is a women's organization I'm a part of. Basically, everyone in the group has a role and coordinates it. Every year, we have a ton of interest as far as the crafters or vendors registering. This year even more-so. We were booked within the first month-and-a-half after sending out the registration packages in July. We have moved it, so we have the Meadow Lake and District Arena floor and the mezzanine as well because we had so much interest and we didn't want to turn people away. We usually get between 1,300-1,500 shoppers, then we do have some organizations like 4-H who will come do some fundraising by offering a gift wrapping service.
Q: Is this a major fundraiser for the group?
A: It is. Each chapter of Beta Sigma Phi has its own service project they do for fundraising and volunteering. This is our main project where we get the majority of funds we earn in a year. All of our profits from the event go back into the community.
Q: What is Beta Sigma Phi?
A: It's an international women's organization. It's motto is life, learning and friendship. The chapter in Meadow Lake is called Beta Eta and there are chapters essentially all over the world. They're primarily located in Canada, the United States and Mexico, but there are other chapters in Scotland, Saudi Arabia, England and all sorts of locations. Beta Sigma Phi was established in 1931 and basically it was set up so women would have somewhere to gather. Back then, it was a much fancier thing than it is now. It was about grandiose and evening balls. Even though it is a sorority, it's not tied to any educational institution, so we do have a wide range of ages and educational backgrounds. Back then, a large component of it was raising funds and, during the Second World War, sisters of Beta Sigma Phi raised about $22 million in war bonds. That's not exactly what we're doing these days, but we do try to keep that component where we are still gathering – it's still friendship and learning, but also raising money and then giving back to our community.
Q: What other ways is the sorority involved in the community?
A: We do some volunteer work, but we're not a service group. This year, we purchased a Bili-blanket for the Meadow Lake Hospital. Some people may have read about that in the paper. It was a significant contribution. Last year, we purchased pulse oximeters for the hospital and, the year prior, it was a breast pump cart. In the past, we've also furnished the palliative care room. We also have a scholarship for Carpenter High School and help out with other events like the music festival when requested. Each year, we also donate mitts to the elementary schools.
Q: Are you involved with other groups?
A: This year I'm working with the Purple Light Walk to end domestic violence. Meadow Lake has had the candle light vigil walk each December and I'm working to grow awareness about that, so we added the purple light component to it. That walk will take place Dec. 6 and it coincides with the National Day for Remembrance and Action on Violence Against Women. That date was established in 1991 by the Parliament of Canada. We're asking all community members – whether it's in their home or business – to display purple lights from Nov. 25 to Dec. 10, which is the 16 days of activism against gender violence.
Q: Why are you so involved?
A: Some of it is through Beta Sigma Phi and some of it is through my job at the Innovation Credit Union. Innovation is a large supporter of giving back to the community and strongly encourages their employees to do volunteer work. I grew up in a small community as well. It was an expectation everyone would contribute to make things happen. To me, it just comes naturally.
Q: Where were you born?
A: I was born and raised in Wishart, SK, which is southeast of Meadow Lake. It's close to Wynyard. It's a small town. Back in the day, it was thriving on its own, but now there's not much there besides a post office. I also graduated from high school there.
Q: What happened after you finished high school?
A: I went to the University of Regina and earned a four-year Bachelor of Arts degree with a major in psychology and a minor in Indian studies. After I convocated, I moved to Saskatoon where I lived for a number of years. In 2008, I moved to Meadow Lake. My husband, Nathan Payne, took a transfer with his job at Saskatchewan Government Insurance (SGI). He's an adjuster. He came in 2007 and then I found suitable employment and moved in March 2008.
Q: What career were you expecting after convocating from university?
A: I thought the psychology and Indian studies would be interesting and, after the four-year program there was always the option to stay and do a Master's degree, but I thought it was time to get working. One of the first full-time job opportunities was with a finance company. Any of the positions I could have had based on my education at the time was casual or part-time. I didn't want to move back to my small town to live with my mom, so I took what was full-time and it's led me to where I am today. It's an interesting mix, but I do enjoy it.
Q: What do you like to do in your spare time?
A: I mostly do volunteering. I work full-time as a relationship manager, so I do lending more so in the commercial and agricultural sectors. I'm busy with that. I do have two step-children and one grandchild, so whenever there's time to be out and visiting with them is awesome as well. My stepson, Nolan, lives in Saskatoon and my stepdaughter, Shalisa, lives in Weyburn.
Q: What's it been like living here in Meadow Lake?
A: It's different from where I grew up. My husband enjoys golfing and fishing and I've been so busy with volunteer work and working full-time with the credit union. When I arrived, I was asked almost immediately to join Beta Sigma Phi. There, I was introduced to a bunch of people who I might not have seen through my work or other things I was doing. So, I was quick to get active and do volunteer work. I have found Meadow Lake is a pretty open and welcoming community. There's no shortage of requests for volunteers that's for sure.
Q: Why is volunteering so important to you?
A: I grew up on a farm and I really just think it comes when you live in a small town. It was expected everyone would pitch in and help when there was something on the go. There were fewer events, so maybe people were more willing to lend a hand. Perhaps there was a stronger participation because there were only so many events. We didn't have dance groups or anything like that. People either did Ukrainian dancing or played sports. Whenever anything was happening there was huge community support. I guess I just bring that with me wherever I go. Even here in the community there are many people volunteering their time or giving whatever contribution they can. Some people have more time than others depending on what their work and family life demands. But, certainly if everyone contributes a little bit, it makes things happen quicker.
Q: Are you getting ready for Christmas?
A: Yes. This week I'm off work getting ready for the craft fair. There's lots of last-minute things to be done. In our household, we also celebrate Ukrainian Christmas, which is in January. We have a double Christmas I guess. We're usually travelling or having our family here for Christmas followed by the Ukrainian Christmas celebration.
Q: Tell me about your Ukrainian Christmas?
A: I have a Ukrainian background and my grandparents are from the Ukraine. They celebrate it on a different calendar there, so Ukrainian Christmas Eve is Jan. 6 and Ukrainian Christmas in Jan. 7. Ukrainian New Year's is held Jan. 13 and we call it Malanka. We still do a lot of the Ukrainian things on the regular Christmas – we grew up and didn't know any different – but we like to celebrate both.