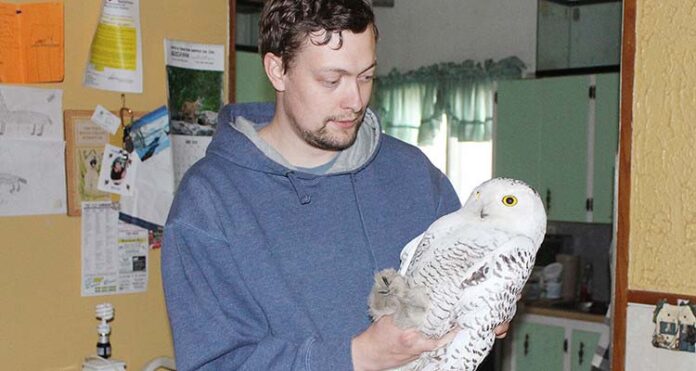 by Derek Cornet
Starving snowy owls are being found by people throughout the North.
Since Oct. 15, Mark Dallyn at Healing Haven Wildlife Rescue near Dorintosh has received 16 reports of owls being found in emaciated condition. Eight owls have made it to the haven, but only three remain and are expected to survive until they can be released.
"By the time people are finding them, they are sitting alongside roads, in yards and in towns," Dallyn said. "You can literally walk right up to them. Most of the time, they can be picked up and won't react. They've already given up."
Dallyn's first call involved a homeowner in Meadow Lake who had an owl in his yard that seemed to be in distress. In the following weeks, he said reports of owls increased with two or three calls coming in daily. Dallyn noted the situation is one he's never seen before, but believes there are a variety of reasons for the occurrence.
Firstly, he said, there could be a surge in owlets this year and people are seeing more as the birds continue their migration southward. He also noted there could be a shortage of lemmings in the Arctic region – which is the main food source for snowy owls – so they could be in search of food. Finally, Dallyn added it's been suspected forest fires in the North may have contributed to the owls' plight.
"Their body condition score is the lowest it can get and they're weighing less than half of what they should," he remarked. "They're literally skin and bones."
In the last few weeks, Dallyn has heard of owls being rescued on the east side of the province, as well as in Manitoba. Last week, pilots with Transwest Air rescued an owl near La Ronge which the company surrendered to conservation officials in Saskatoon.
Alfred Cheze, who lives south of Meadow Lake, discovered an owl near his barn. While he noted owl sightings in the area aren't rare, he's never seen one like this.
"It wasn't a real big one, so I'm thinking it was young," Cheze said. "He looked healthy and everything. He just couldn't fly."
The owl was taken to Dallyn and is among the eight he's cared for.
According to the provincial game bird biologist Katherine Conkin, the government has recorded 15 cases of owls in distress. Results from necropsies on dead specimens are yet to come in, but Corkin noted the cause is unlikely to be the wildfires because none of them were in the North in June and July.
"We figure, this year they probably had low prey populations at the Arctic breeding grounds," she said. "Migration is an energy extensive activity and, if they don't leave in good condition, the do run into issues with starvation."