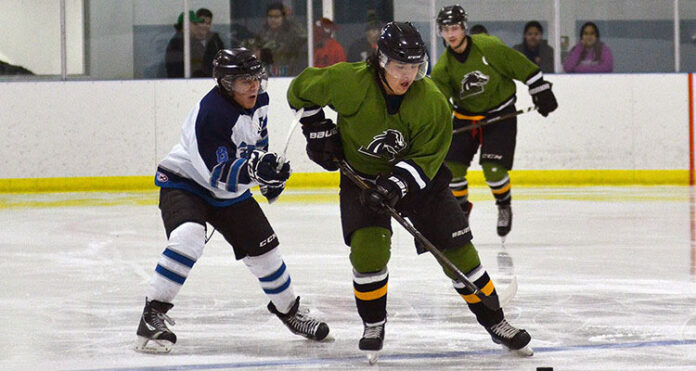 by Phil Ambroziak
Change doesn't always have to be a bad thing.
Randy Lariviere of the Meadow Lake Broncos learned this earlier this season when, after playing defence for many years throughout his career, he stepped out of his comfort zone to become a forward on one of the team's top lines.
"I wasn't expecting to play forward this year – I had picked my spot and was doing pretty well at it – but, soon, too many defencemen came along, so the coach asked if anyone would be interested in stepping up," Lariviere explained. "I agreed, and haven't looked back since."
Originally from Canoe Lake Cree Nation, Lariviere joined the Broncos of the Beaver Lakes Hockey League (BLHL) at the start of last season. He was named BLHL Rookie of the Year and, according to coach Darryl Worms, has proven himself to be a "versatile player".
Lariviere grew up playing playing hockey in his home community, at which time he also attended elementary school in nearby Jans Bay. Later, he attended high school in Beauval and continued to participate in his favourite sport until the opportunity to take everything he'd learned to the local senior men's team presented itself.
"Growing up, I was actually a goalie before I started playing defence," Lariviere said. "When I joined the Broncos, I only knew two or three of the other guys because I'd played against them in the past. But, I was working in Meadow Lake at the time, and I was looking for something to do and a way to still be involved in hockey."
Lariviere went on to say, a big reason why he enjoys the sport as much as he does is the many friendships he's formed throughout the years. He's also proud of his accomplishments, particularly since moving into an offensive role with the squad. In the 2015-16 regular season, he scored seven goals and earned 13 assists in 14 games. So far, in the post-season, he's netted one goal and secured four assists.
"Yeah, I've been doing pretty good lately," he said. "We've all been working very well together – we're always looking to improve on the small things as a group."
This season, Lariviere plays on the Broncos' top scoring line alongside Taylor Arnold and Ashton McIntyre.
"It's easy working with them – we're always able to find each other on the ice," he added.
After disposing of the Moosomin Warriors in two games straight, the Broncos and the La Ronge 89ers are scheduled to meet in the best-of-five second round beginning this Friday at Flying Dust First Nation.