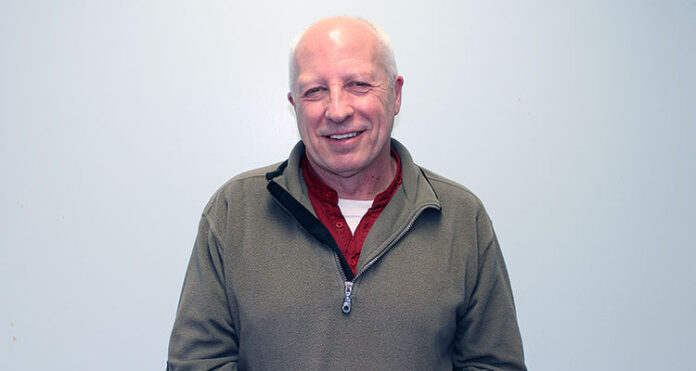 It's Teacher/Staff Appreciation Week in Saskatchewan and Dorintosh Central School principal Brian Dyler is among those to receive praise. Recently, Brian spoke with Northern Pride about his career, the recent school review and the advantages of living in a small community.
Q: How long have you been the principal at Dorintosh Central School?
A: I'm halfway through my fourth year. Before Dorintosh, I taught at Jubilee Elementary School in Meadow Lake for 12 years. I also taught in British Columbia as a resource teacher at a number of places. I had a fair bit of experience before I moved to Saskatchewan. I was hired as a resource teacher first a Jubilee, then I switched to the classroom and taught Grade 3. I liked Grade 3 so much I stuck with it since then. It's neat because I get to see all these kids grow up who I taught when they were eight or nine years old.
Q: Were you a principal before?
A: No. It was quite a change. As an administrator, there are so many more responsibilities on top of all the classroom responsibilities. It's a great challenge to take on the extra work and it's more of a challenge in a small school. Even though I'm expected to have the same kinds of things in place and the same paperwork as the bigger schools, I don't have the time because I teach three grades plus I'm the resource teacher. Like Al Maier in Rapid View, it's a juggling act. The percentage of time available for administration is really quite small. I have to use time wisely to make sure I cover everything the Northwest School Division would like me to handle. Then, there are all the meetings I attend. As a principal, I have to go to certain workshops and, as a resource teacher, I have to attend the student services support meetings. I'm out of the school a little bit more being a representative. It's not an overwhelming challenge – it's enjoyable.
Q: How many students are in your classroom?
A: There are 11 students. I teach Grades 3-5 this year, so I have two Grade 5 boys who I've had for three years. You bond with them and we get to know each other well. It's a very unique experience. This is the first year I taught Grade 5 in quite a while, so I had to relearn some of the curriculum. I already had an idea about some of it, but it takes time to bring it all together. Another teacher instructs social studies and science for the Grade 5s, so I don't have to worry about that. Because I taught some of them for so long, I know exactly where they are on everything and how to individualize the work. I know how to move them on based on what I know they can do.
Q: How many students are at the school?
A: Since the school review ended, we have four more students, so we're at 29. We also have another Kindergarten boy who will be starting next week. I've heard there has been another house purchased in town, so there might be more children from that yet. We're hopeful more people see the advantage of living in a small community and move here. The school itself is a unique opportunity for kids because they get to know each other so well. The bigger schools offer a lot, but we offer something different.
Q: What's it been like since the review ended?
A: Right now, people are a little sensitive to that issue. They're all really relaxed and happy about getting a couple more years. They all want to ride on that positive feeling.
Q: What makes Dorintosh school special?
A: We're able to promote what interests each student and, I know all teachers do that, but we're able to do it with the whole staff. We're quite tight in everything we do. There's a togetherness that's not experienced in bigger schools. Even at Jubilee with 300 kids, you don't get to see every child every day – some of them you don't even know their names. But here, the staff knows everything about the students.
Q: How many staff are employed?
A: There's 3.5 teaching staff including myself. There's also one educational assistant and our administrative assistant. The staff like it here. It's a rewarding place to work because the staff and students know each other very well. I was trying to tell my students, I'm not getting up and teaching a room with 25 kids with one lesson, I'm teaching many lessons as we go along. It's fun to watch it all happen as they learn at different speeds. We have a lot of parent support and we have a great school community council that's willing to help out. It's a good place to work and come to every day.
Q: What's coming up at your school?
A: All this week and next week, the school community council has purchased books for every family to read. We read two chapters a night and we meet together in the morning where there are questions for kids to answer. Because they all got the question right, today we're having hot chocolate and extra computer time at the end of the day as a reward. After the question, we also get together and discuss what they read. Hopefully, their parents read with them because the whole idea is to get the parents involved by promoting literacy in their household.
Q: What are your hopes for the future of the school?
A: I hope the enrolment goes up a little bit and I think it is possible. The community is also aware about the necessity to do that and, from what I understand talking to people, there's going to be a focus to do that. Communities like Dorintosh, quite frankly, are a well kept secret. I've lived in big cities and the people living in big cities are trying to live in places around them. I grew up in Calgary and when my wife, Corinne, and I got married, the first thing we did was buy an acreage in Airdrie, AB which is as close to Calgary as Dorintosh is to Meadow Lake. We did that to get out of the city and live more of a rural life. Meadow Lake's not a big city, but I don't understand why more people don't move out here and take advantage of this.
Q: Were you always a teacher?
A: No. After I got married, Corinne and I moved to Kelowna, B.C. and I operated a printing business. That's where my kids were born and we still have a home there. Our children, Kelly and Craig, are both adults now and that's where we spend the summers. Our daughter is married and lives in Calgary and has a home there while our son lives in Kelowna. I left the printing business, though, because it was a fairly competitive market. Earlier, when in high school, I wanted to be a teacher so that's what I turned to. I went to university and I stayed for a couple extra years to receive training in resource and special education.
Q: Why did you move east?
A: I was a resource teacher and the B.C. government at the time cut funding to resources and music in the schools. So, when a job was available at Jubilee, I came out here for a look and ended up staying.
Q: Why did you want to be a teacher?
A: I admired some of the teachers who I had in school. I could see myself in the role and liked the whole idea. Some kids do well in school and I really liked it. I had lots of friends and different sports to play. It was a good experience and I wanted to carry on with it afterward. Before I knew it, though, I was opening my own business but that fell to the wayside. I was working 16 hours a day when my wife said 'that's enough'.
Q: Where do you see yourself in five years?
A: I hope to be retired on a beach in Kelowna. I won't be here much more than five years. I love Kelowna. There's a lot of nice lakes and the weather is nice. I drive a motorcycle, so I spent a good part of the summer travelling on it. I also play the guitar and I have many opportunities to play outdoors. It's a good place and, like I said, we have a home there. It's only natural for me to head back to Kelowna when I'm finished in Dorintosh.
Q: Do you have any advice to share?
A: Staying true to yourself is important. Stay true to your values and what you believe in. It's also important to have a good mindset. Things can look tough or be boring, but you have to be in the mindset of what the goal at the end is going to be. If you're in that mindset, it makes the job of getting there easier because you know how happy you'll be.