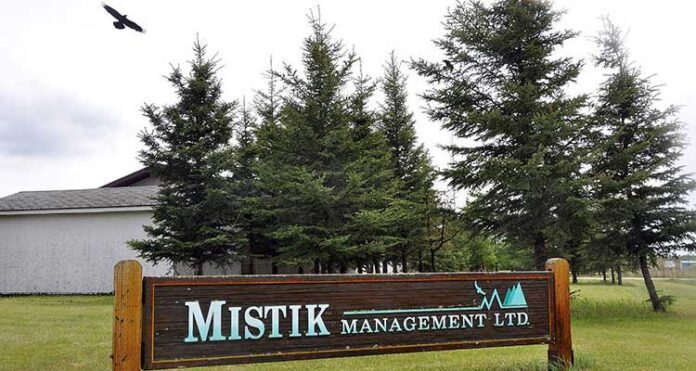 by Phil Ambroziak
Recent salvage operations by Mistik Management Ltd. have tied the hands of at least one area trapper.
According to Leon McCallum, if he wants to continue trapping, he'll have to find a new location thanks to Mistik's efforts to clear cut an area near Upper Cummins Road about 35 kilometres southwest of Buffalo Narrows. According to McCallum, no notice was given with regard to Mistik's plans for the area.
"I realize they opened the road for forestry operations, but they again failed to notify the traditional resource users in the area about what they were going to do," McCallum said. "Now I have to trap closer to the Air Weapons Range just to get a few fur-bearing animals."
For years, McCallum trapped near Niska Lake before Mistik activity more than a decade ago, he said, resulted in him relocating to the Deep River area. He still continued to trap near Upper Cummins Road to Vermette Road, however, but said he now has to move his operation even further from his home community of Buffalo Narrows.
"I am not happy with the way they are treating me, clear cutting around my trap line," he continued. "When I spoke to them about it, they responded by saying they didn't know I was trapping in the area. I really don't know how Mistik can get their certification when they treat people this way. They have no respect for trappers."
Roger Nesdoly, general manager at Mistik Management Ltd., admitted his company was unaware McCallum was still trapping in the area where, in recent weeks, the forest management company has been conducting its work. But, he also confirmed the reason for the activity.
"We're in the midst of a fire salvage operation along Upper Cummins Road," Nesdoly said. "About 2,000 hectares were burned out this past July by the Jaylene fire, so we submitted a fire salvage plan and are harvesting close to 500 of these hectares."
Nesdoly said it's important to harvest the wood quickly because, as more time passes, fire-damaged timber loses both quality and value. The work is expected to continue throughout the winter spring and summer before wrapping up by fall.
"We know Mr. McCallum – we've had an association with Leon for the better part of 20 years," Nesdoly added. "However, we were led to believe he was no longer trapping in that area. Upper Cummins Road is a forest resource road, however, and sooner or later you should expect some harvesting. If there had been no fire, would we be working in there today? No. Would we be in there at some point in the future, though? There's a high probability, yes."
Nesdoly also said, when timber is damaged, usually there's not a lot of animals left in the area anyway.
"We spoke to the Buffalo Narrows co-management board about our fire salvage operation, but, no, we did not directly contact Mr. McCallum," Nesdoly added. "That was an oversight on our part because, to the best of our knowledge, he was no longer trapping there."
On Jan. 21, Mistik officials were in Buffalo Narrows for one in a series of public information meetings to seek input as it prepares its next 20-year forest management plan. McCallum was in attendance.
"I was 15 years old when my parents took me out of the Ile-a-la Crosse school and taught me how to trap and fish for a living in the traditional ways," he said. "I have been trapping every year since. I'm still active and want to live the traditional ways. In three months I'll be 80 years old and I just want Mistik to leave me alone."