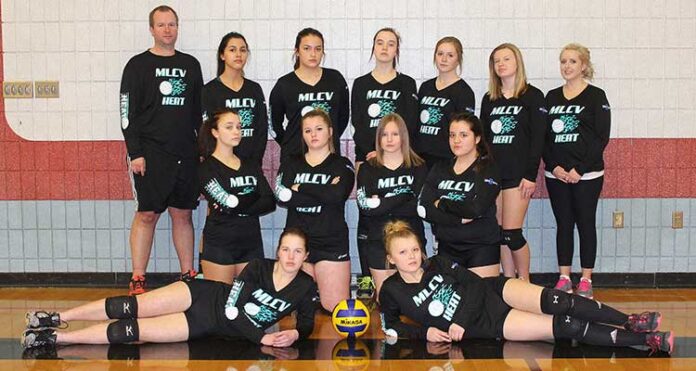 by Derek Cornet
In an effort to gain an edge on the competition, female athletes in Meadow Lake formed a new 15 and under volleyball team.
"Gone are the days where Jonas Samson Junior High School can put a team together in September and go out and win everything," remarked Randeen Wood, a parent with a child involved. "Back in the '80s when I played, we dominated but now these other teams are playing all year long."
The squad formally came together in December after the conclusion of the school's volleyball season. Members decided to do so after they lost the majority of the games they took part in during the fall. Wood said, because the girls were having such difficulty, they were getting really down on themselves.
Meadow Lake club volleyball now has three teams in three age categories. The new team had to raise more than $3,000 for uniforms and other attire. In the last couple of months, the group held a bake sale and bowling event to do so. Also, a Meadow Lake business decided to help with costs.
"Their daughter does play on the team, but they agreed if the girls put in some fundraising efforts to help buy their clothing and attire, they'd pay half," Wood noted. "The big thing was coming up with all the money because we needed jerseys."
Since formation, the team has been practising twice a week and has also competed in two tournaments, including one this past weekend. The squad won three out of five games, losing to St. Walburg and Saskatoon. Saskatoon currently has the top ranked team and Meadow Lake coach Chris Ellis said the girls played well against them.
"We're at the point where we play to the level of our competition," he commented. "So, when we play against a good team we're good, but when we play teams who aren't so good, we play down a level."
Ellis – along with Melanie Kaiser – are co-coaching the squad and they hope to develop the team more before travelling to a national tournament in Regina this May. During the last several years, they've noticed an increase in competition but hope the program changes that.
Among the players on the team is Makayla Bear who said the club would prepare her for high school volleyball. She also noted the coaches have been dedicated and she's thankful they took on the roles. Bear also noted all team members helped fundraise, which was a bonding experience for those involved.
"It was fun because it was also a chance for us to get to know each other better," she said.