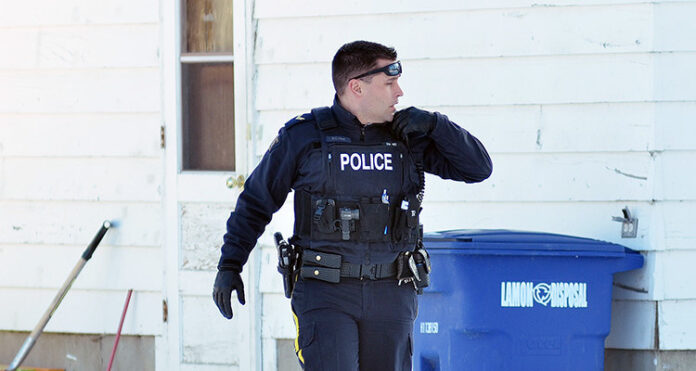 by Derek Cornet
Meadow Lake RCMP have confirmed a recent attack at Carpenter High School is connected to a firearms complaint at a local residence.
The two incidents occurred Feb. 23 with the first unfolding at the school. According to Northwest School Division (NWSD) officials, two suspects entered the school at about 3:40 p.m. and struck a student before leaving. The incident has been described as a personal attack, with the two suspects identified as a student from another school and a non-student.
About 30 minutes later, police were called to a firearms complaint along 3rd Avenue West where it's believed a youth was assaulted and a handgun involved. The RCMP continue to search for 19-year-old Draysen Bigham and, Cpl. Ryan How added, officers have arrested one minor in connection to the incident and are in search of a second.
"What happened at the school certainly wasn't as serious as what happened after school," he remarked. "Our primary concern from a policing point of view is what happened after school. I understand how the two can be construed as directly connected – and they are – but the severity went way up after school."
While How didn't want to downplay the incident at the school, he noted situations in that nature are generally handled at the school level with little to no involvement with the RCMP. He added, there was no reason to believe a firearm was shown at the school and officials don't want parents and students to be frightened about what did happen.
Although NWSD director of education Duane Hauk didn't want to share much information because of the ongoing police investigation, he said a weapon was not used at the school. He noted assaults don't occur in the division often, but said fights or any other incidents are treated seriously.
"We want our schools to be as safe as possible," Hauk said. "We want to look after our students. This was after school hours. All our schools are continuously looking for ways to address the different situations that can happen."
The division has deemed staff at CHS followed all appropriate procedures. Also, they've concluded the school, staff and student body weren't threatened or targeted.