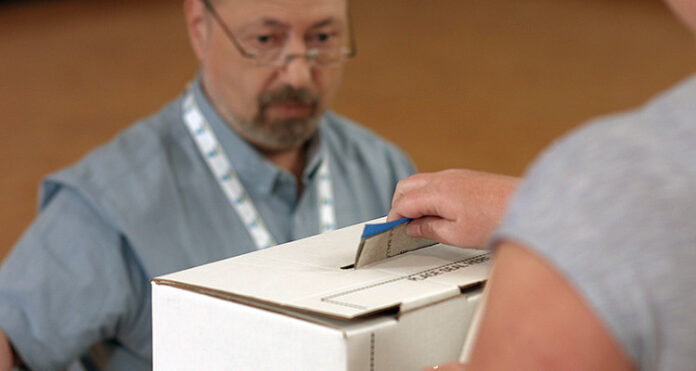 by Phil Ambroziak
With the writ expected to drop any day now, provincial candidates are more eager than ever to officially hit the campaign trail.
Back at the home front, however, Elections Saskatchewan is struggling to find a sufficient number of bodies to fill important behind-the-scenes roles leading up to the April 4 vote.
"Currently, we don't have enough people to work the provincial election," noted Elections Saskatchewan spokesperson Tim Kydd. "We need about 10,000 workers on Election Day, as well as on the advance voting days of March 29 to April 2."
This is especially the case, Kydd added, throughout northern ridings including Meadow Lake where incumbent Sask Party MLA Jeremy Harrison is being challenged by NDP candidate Dwayne Lasas, Liberal Eric McCrimmon and the Green Party's Eric Schalm.
"Meadow Lake is a pretty big constituency, as are the ridings of Athabasca and Cumberland," he said. "In Meadow Lake, we need at least 200 workers and, to date, we have fewer than 70."
Two jobs on the list of vacancies are the primary positions of deputy-returning officer and poll clerk.
"All positions are paid, but another thing we're pitching this year is to get different groups involved – service club, sports teams or church groups for example – who could then donate the money they earn to charity."
Kydd went on to note 170 election workers are needed in the Athabasca riding with no more than 30 currently signed up. In the Cumberland constituency, another 200 workers are needed, but fewer than 50 have come forward so far.
"It's difficult to measure how these numbers compare to the last provincial election in 2011, but I do know the returning officers back then spent a lot of time hiring and recruiting others. This time, we want to help take some of the pressure off so they can spend their time on running a good election."
Meanwhile, even though the number of election workers is down, the number of people expected to cast a ballot April 4 is on the rise. Kydd said, 90 per cent of the province's eligible voters are already on the voters' list. Now, it's a matter of getting more people involved at an organizational level.
"We find elections are a great way for community members to reconnect, for people or charities to earn money or for young people to improve their résumés," Kydd said. "More importantly, it's a great way to do your civic duty."
In the Athabasca constituency, NDP MLA Buckley Belanger is seeking re-election. Also running are Sask Party candidate Phil Elliott, Liberal Michael Wolverine and the Green Party's Max Morin, while, in Cumberland, NDP incumbent Doyle Vermette's name will be on the ballot along with the Sask Party's Thomas Sierzycki and the Green Party's Adam Josephson.