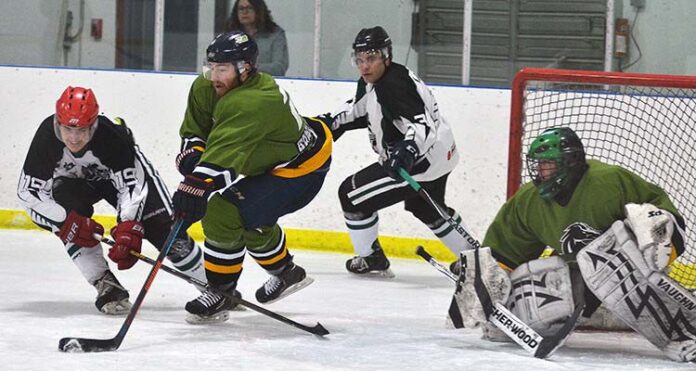 by Phil Ambroziak
Two down, one to go.
After going through the Moosomin Warriors and the La Ronge 89ers, the Meadow Lake Broncos have secured a spot in the Beaver Lakes Hockey League (BLHL) championship final against the Birch Hills Blackhawks.
"Birch Hills finished third overall in the regular season and they're a very strong team as well," remarked Broncos coach Darryl Worms. "I expect nothing less from them than what we saw from La Ronge in the semi-finals, and I'd be surprised if the series doesn't go to five games too."
That's exactly what happened between the Broncos and the 89ers. After swapping wins in the first four games, Meadow Lake took control of Game 5 Saturday night at PineRidge Ford Place on Flying Dust First Nation to clinch the series and send the hometown crowd of more than 700 home happy.
"Prior to Game 5 we sat down and really analyzed the other team and to figure out where we weren't scoring goals," Worms continued. "Once we figured that out, we stuck to the plan and were able to get the win. It made a world of difference and gave us a cushion early in the game."
Captain Taylor Arnold opened the scoring early with a goal at the 17:19 mark of the first period. This was followed almost immediately by another Broncos goal courtesy of defenceman Zane Morin at 16:49. Logan Pethick, meanwhile, would light the lamp at 7:01 to make it 3-0 for Meadow Lake following the first period.
In the middle frame, Arnold would score his second of the game before La Ronge finally scored their first of the contest when Korey Diehl was able to slip one by Broncos goalie Rick Dallyn at the 3:44 mark. Bronco Adam Merasty answered back at 2:24, while La Ronge's Cody Michelle scored less than a minute later to make it 5-2 after 40 minutes. Morin netted the final goal for Meadow Lake at the 15:29 mark of the third to cement the victory for his team.
"We came out on top by rallying four full lines – everybody contributed," Worms said.
Worms went on to say, the moment his team was able to tie Game 4 in La Ronge with 19 seconds remaining in regulation time before going on to win in double-overtime was the moment he knew the series belonged to them.
"They fought so hard in that game and, after that, we could just feel it," he said. "It was a defining moment for us."
Meanwhile, new to the Broncos roster as of Saturday's game was former Meadow Lake Stampeder and junior hockey player Cullen Morin. He actually signed on with the team earlier in the season, but chose to fulfill his commitments as a minor hockey coach before taking to the ice with the Broncos.
"To me, that's very honourable," Worms said. "He certainly contributed to Saturday's win – he has a great skill set just like everyone else – but our team as a whole is very resilient. We don't see anyone as a superstar because, if we're going to win, we're going to win as a team."
According to 89ers manager Kevin Roberts, the season was a great learning experience for his team.
"We had a really good run," he said. "It's just unfortunate we couldn't get a full lineup for Game 5. Actually, there never should have been a Game 5 considering we were 20 seconds away from winning the series in Game 4 when they were able to tie things up and, in overtime, go on to get the win."
Game 1 in the Meadow Lake-Birch Hills championship series is scheduled to take place this Friday at PineRidge Ford Place. The following day (March 5), Game 2 will be played in Birch Hills.