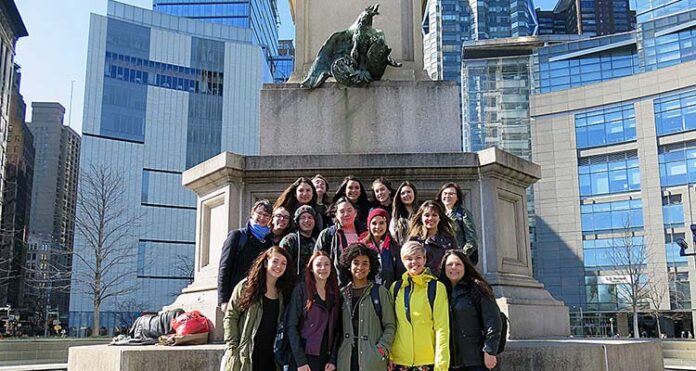 by Phil Ambroziak
While most kids in Meadow Lake satisfied their sweet tooth with a taste of Easter chocolate last week, a select group instead took a bite out of the Big Apple.
Fifteen students from Carpenter High School travelled to New York City March 25-30, not only to take in the many internationally renowned tourist attractions, but also to gain a unique perspective into the world of the performing arts.
"We visited all the usual touristy places like the Statue of Liberty, Ellis Island and the Empire State Building, but we also took in two major Broadway theatre productions – The King and I starring the Tony-Award winning Kelli O'Hara, as well as Matilda," explained CHS teacher Dawn Benoit. "We also had an opportunity to take part in a workshop with actor Thayne Jasperson who enlightened us on all the trials and tribulations involved in becoming a successful actor."
Benoit, who teaches drama at the school, said this trip in particular was primarily geared toward students with an interest in the performing arts, but said there there were still a few others on hand who do not currently study drama or take part in the CHS after-school drama club.
"Everyone who took part not only benefited by the educational component of learning about theatre, but they also learned a lot about the reality of life in a bigger centre," Benoit continued. "Meadow Lake is a very isolated community, especially compared to New York City, so this experience allowed them to gain a greater world view. Many of the students had never seen a skyscraper, high traffic levels or such a variety of different people before. The subway ride was also unique for many of them."
One Meadow Laker who didn't entirely fall into this category, however, is Grade 10 student Lara Van de Venter. She had been to New York City before, but admitted this trip allowed her to see certain aspects of the city she'd not experienced the first time round.
"I really appreciated the opportunity to ask questions of an actual Broadway performer and to learn about what he did to get to the big stage," Van de Venter remarked. "Both Broadway productions were also great – it was incredible to see firsthand a sample of the highest level of performing arts in the world. I loved every second of it."
Van de Venter has been heavily involved with drama since before starting at CHS last fall.
"I always took part in school plays when I was younger, and was also involved in Gateway Elementary School's spring musical when I was in Grade 5," she noted. "I've always loved drama – it's close to my heart."
She went on to say, after the recent New York City trip, she's been inspired more than ever to possibly pursue a career in the theatre.
"In order to perform on Broadway, I thought you'd have to start at a very young age with some pretty intense acting and singing lessons, but the guy we met didn't pursue his career until after he'd finished high school," Van de Venter said. "This proves to me nothing is impossible and I still have a chance. At least, it's something I can put in my bucket of things I could do after graduation."
Fellow Grade 10 student Keeley Willick agreed.
"I gained a lot of insight on what it takes to make it big, and not just on Broadway," Willick said. "We visited Radio City Music Hall and met with one of the Rockettes. They train six hours a day, six days a week. A lot of effort goes into being prepared for just a single performance. We also learned the Juliard School in New York only accepts 20 students at a given time, which proves how hard you have to work if this is a dream you want to achieve."
Meanwhile, last week's trip was Benoit's second to New York.
"I also took a group of students to New York City in 2009, but I was working in a different province at that time," she said. "At that time, the 9/11 site was still being excavated, but it's now open and we took some time to visit it. These students were born at the time of the 9/11 attacks, but were too young to really experience the impact they had. This served as a real eye-opener for many of them."
Benoit went on to say she hopes to visit New York again, but would also like to organize a school trip to either London, England or Toronto, ON.
"It would be nice to visit one of these places next year, as long as we can get enough students interested in going," she concluded.