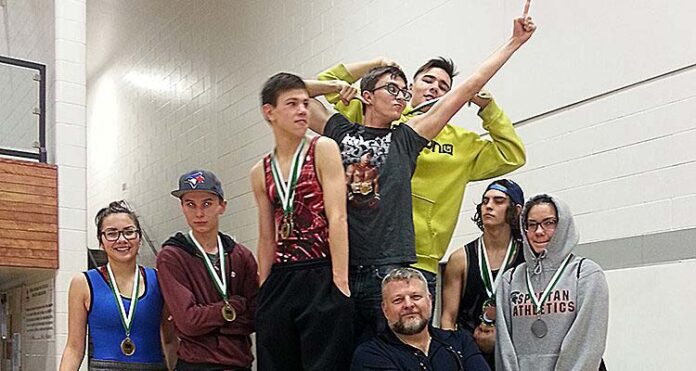 by Phil Ambroziak
The season has shaped up nicely for the Northern Pike's Wrestling Club.
The club brought home a total of nine medals from the 2016 Saskatchewan Amateur Wrestling Association (SAWA) Age Class Provincials on the weekend, an event held Saturday (April 9) in Weyburn.
"I was both pleased with and proud of how well they did," noted Northern Pikes coach Chris Brownrigg.
Gabriel Regnier claimed gold in both the Cadet Freestyle 54-kilogram category and the Juvenile Greco-Roman 54-kilogram category, while Tavin Bear also took the top spot in the Cadet Freestyle 85-kilogram class. Other firsts included Cody Barden in the Juvenile Greco-Roman 63-kilogram class and Skyla Russell in the Juvenile Female Greco-Roman 60-kilogram category. Silver medals, meanwhile, were awarded to Leroy Murray for his effort in the Juvenile Greco-Roman 63-kilogram category, Bear in the Juvenile Greco-Roman 85-kilogram class and Savanna Russell in the Juvenile Female Greco-Roman 60-kilogram category. Murray also secured a bronze medal in the Juvenile Freestyle 63-kilogram category.
"A few of the athletes were wrestling injured, which may have affected how they could have done, but their overall effort on the mat was excellent," Brownrigg added.
This weekend, five wrestlers – Regnier, Bear, the Russell twins and Barden – will compete at the SAWA national competition in Calgary.
"At nationals, I don't have any expectations when it comes to medals, but each of these wrestlers has the potential to surprise me and to possibly get there," Brownrigg said.
He also said he would have liked to see more Northern Pikes athletes take part at both the provincial and national competitions, but added he doesn't like to push anyone if they're not feeling up to the task.
"There are a some wrestlers I know who, had they attended provincials, would have definitely earned a medal, but there's always next year," he said.
And, also with regard to next season, Brownrigg said he's looking forward to the return of long-time wrestling coach Jason Guenther.
"It has been a season of growth and of finding new talent," he said. "Jason will be back next year, bringing with him whatever new moves and techniques he's learned while in Europe. But, for me, it's been a pleasure to coach such bright, hard-working athletes all season long."