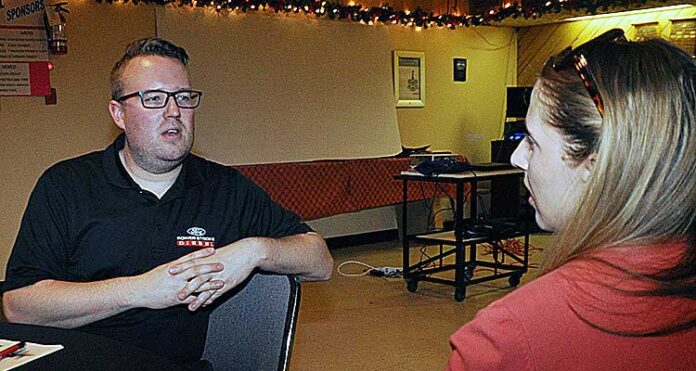 by Phil Ambroziak
It's been a busy year for the Meadow Lake and District Chamber of Commerce.
During the chamber's annual general meeting held May 18 at the PineRidge Ford Curling Club, president Wayne Marsh highlighted some of the bigger initiatives his group tackled in 2015, first and foremost being last summer's Pinnacle Motorsports Truck and Tractor Pull.
"In July, we brought in the tractor pull – a two-day event," Marsh noted. "We ran this in conjunction with our midway. We found combining those two events proved to be very successful for us. It was one of the best midways we've had in years. We really can't measure what kind of economic impact it had on the town, but it gave our membership another opportunity to serve the people who were coming in and really drove more people into Meadow Lake."
In spite of this, however, the truck and tractor pull will not be happening again this year. Although chamber officials noted a small profit was made from the event, it did require a large amount of time and planning.
"The big thing we learned about it was it's an extremely expensive event – to tune of about $40,000," added outgoing chamber vice-president Geoff Barton. "But, we also learned we are capable of organizing big events like this and making them successful."
According to the chamber's annual financial statements, overall revenue increased from $102,046 in 2014 to $144,059 last year. Marsh said this can be attributed to several factors including sponsorship for the tractor pull, as well as other initiatives in addition to the increasing popularity of the chamber's annual Business Excellence Awards.
"Attendance for MLBEX was the best we've had in a lot of years, which provides good momentum for the event," Barton said. "More businesses are getting involved, which is great, while the audio-visual component we brought in this year made the whole show very well produced. I imagine we'll have to stick with it from here on in considering we've set the bar so high. It made the night just that much better."
The financial report also indicated expenses were higher – $129,657 in 2015 compared to $101,986 the previous year.
"But, we did a few more things in 2015 compared to 2014," Marsh noted. "The tractor pull especially brought more expenses into play, but, other than that, things are fairly straightforward."
Marsh, went on to comment about another big chamber promotion, the annual Holly Jolly event.
"In the fall, we revised our Holly Jolly promotion, which is something our members really pushed us to do because they found it had become a bit stagnant," he said. "We made changes, we sent out emails to everybody in our membership asking for different ideas of things we could do. At the start it seemed as though it really had some momentum, unfortunately it kind of drifted off."
The chamber changed its traditional stamp card promotion to a no purchase necessary, bingo format. While Marsh said it looked good on paper, it didn't catch on with shoppers or merchants.
The AGM also saw the amendment of a handful of bylaws, one of which includes adding a second vice-president position to the board of directors. Meanwhile, six directors – Barton, Sherry Painchaud of First Nations Bank, city representative Layne Shkopich and the Northwest School Division's Kendal Carlberg, Meagan Beck and Amanda Dufresne – all stepped down from their respective roles. While Shkopich was subsequently brought back on board to represent his business, Shkopich Enviro/Lamon Disposal, newcomers include Theo Swainson of PineRidge Ford, Amanda Gutek of Investor's Group, Colton Swiderski of CJNS and Scott Gould of First Nations Bank.