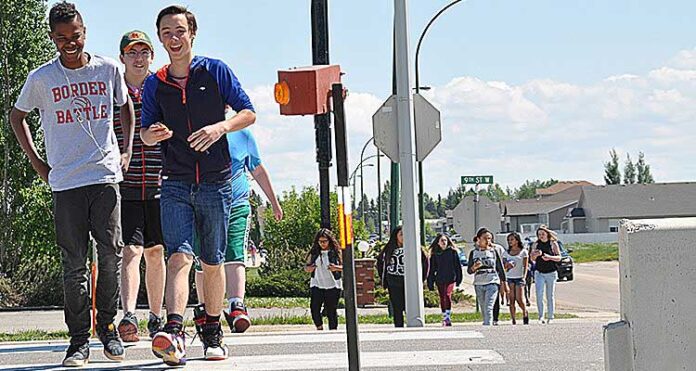 by Phil Ambroziak
The Berlin Wall dividing the German capital stood for 28 years. The barricade blocking the 7th Avenue approach to Meadow Lake's west service road… not so much.
After being in place for only a matter of weeks, city council voted in favour of removing the barricade and allowing traffic to once again access both the service road and Highway 4 from that intersection. The decision came during council's regular meeting May 24, which followed a public meeting held earlier that evening to gauge people's reaction to what was always described as a temporary blockade. The city initially closed the approach to determine what sort of impact the change could have on traffic flow and to businesses located in the immediate area.
"If we had been asked to make this decision four weeks ago, I would have voted for closing the intersection at the drop of a hat," remarked mayor Gary Vidal. "But, that's changed based on my observations since construction (on the service road revitalization project) started. I'm no engineer, but I went by there and saw the current elevation of the road. The issues in terms of traffic have always been the incline (of the approach) or the sight line. I'd say a picture is worth 1,000 words and, with the road now being as high as it is, I'm going to be an advocate of keeping the intersection in place."
Vidal's colleagues agreed, resulting in councillor Conrad Read moving for the approach to remain. His motion was seconded by deputy-mayor Annette Klassen and subsequently carried. While the barricade will be removed at the discretion of the contractor hired to complete the service road project, it's a decision expected to sit well with the 10 individuals in attendance for the meeting including McDonald's franchisee Sharon Taylor.
"On the first day of the closure, I was down 12 per cent in sales," Taylor noted prior to council's decision. "At first, I thought people might get used to using the different entrances and whatnot, but that hasn't been the case. Overall, it's still a huge double digit decline in my business."
Taylor also commented on the safety of pedestrians, particularly students, crossing the highway at that intersection. Her sentiments were echoed by others in attendance including Darwin Assman of Ace Lumber, Kaitlin Harman of the Meadow Lake and Flying Dust In Motion committee and Troy Johnson of Meadow Power and Equipment among others.
"There's absolutely going to be a tragedy at that corner sooner or later," Johnson said. "There has to be traffic interruption, lights there for the kids crossing."
Harman agreed, noting her committee's concerns about displaced traffic congesting other nearby approaches, as well as ways to improve pedestrian safety.
"Regardless of whether that intersection remains open or not, it continues to be a hazard," she stated. "There are dozens of people who use that crossing every day and there needs to be something better than what we have right now."
In spite of much feedback calling for traffic lights, studies have confirmed the area is not busy enough to warrant such action. However, council did instruct administration to look into reducing speed limits both north and south of the community on Highway 4, installing electronic signs to show drivers how fast they're going, asking for the RCMP to enforce speed limits in the area, and to gather information on other options that support pedestrian safety.
"Stats and numbers don't warrant anything different than what's already there, but that doesn't mean we can't up the ante," Vidal said. "That doesn't mean we can't be better than what the minimum standards are, so my comment would be to consider in the 2017 budget process some options (crosswalk lights, etc.) at that intersection. Along with that, I agree with reducing speed limits while approaching the city. If we reduce it from 100 km/h to 70 further out, then reduce to 50 in town, it would line up with the speed limit we have on Highway 55, or Railway Avenue, and creates less risk for everyone."