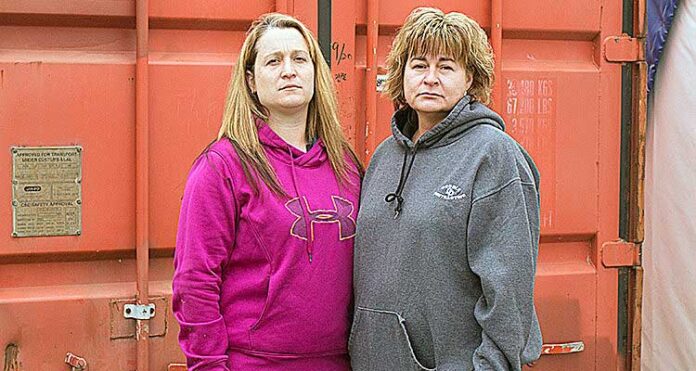 by Derek Cornet
Two residents of the RM of Meadow Lake feel they were less than welcomed at a recent public hearing.
On May 9, a regular meeting of RM council was held where the public had the opportunity to voice their opinion about a number of issues. Among the items up for discussion was the new seacan bylaw, which council hopes to pass to control the flow of shipping containers using zoning restrictions. Candy Kalika and Maureen Pchelynk attended the meeting, but felt they weren't given enough time to voice their concerns.
"I've never went to a public hearing before and we went basically because we're purchasing a lot of seacans because we eventually have to move or destroy our houses," Kalika remarked. "They wouldn't dignify anything we had to say. We tried to ask questions and they were shooting us down."
The two women are largely concerned about how far reaching the new seacan bylaw will be if it's passed in its current state. When residents apply for a permit to keep a seacan on their land, they'll need to promise it won't be used for human habitation and abide by declared rules. Also, those living in a country residential district will be limited to one shipping container.
Since both Kalika and Pchelynk are working on issues with their houses, they might need several containers to store their belongings. Kalika said she might need five or six depending on what happens. But, whatever the case, she feels council didn't care about what they had to say.
"Finally, they just said 'meeting adjourned – take the minutes – we're done,'" Kalika claimed.
Reeve Rodger Zuchotzki admitted council did rush the matter because some councillors had other places to be. He also noted the seacan bylaw wasn't included on the public hearing agenda as was advertised.
"These two ladies were quite distraught," Zuchotzki commented. "I could see their point of view and our point of view. It's just we have to come to a conclusion to this thing."
The May 9 meeting came to a close shortly after the public hearing ended and Zuchotzki added councillors will conclude it in the coming weeks. Since there wouldn't have been at least four councillors remaining at the meeting to meet quorum, Zuchotzki said it had to be adjourned.