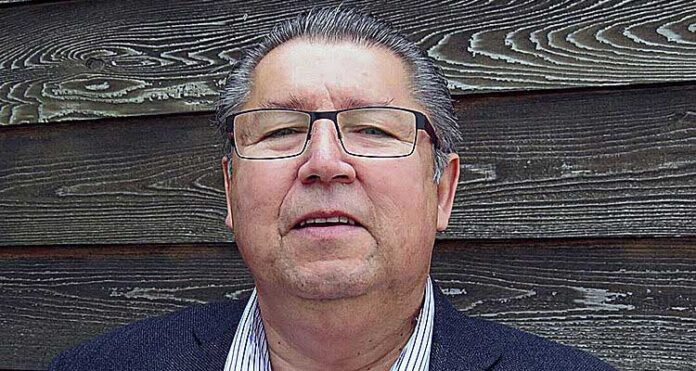 After a landslide victory during the 2016 provincial election, New Democratic Party Cumberland MLA Doyle Vermette is ready to get back to business for a third term. Recently, Doyle spoke with Northern Pride about the upcoming budget, the 2016 wildfire season and his role as a team player with the NDP.
Q: With MLAs returning to the Legislature, what are you looking forward to?
A: The swearing-in ceremony was May 16 and May 17 was the opening. First was the throne speech, then the budget comes out June 1. We'll get ready for some of the issues we've been hearing. People are hearing it's going to be a tough budget and people are concerned and waiting. I imagine there will be some pressure from our side as the Opposition to see where the government is going and get a feel about what they're up to.
Q: For the Opposition, is it a busy time when a budget is released?
A: It is because we have to get ready for what and what's not in the budget. It sounds like it's going to be a tight budget, so we're waiting to see. There's a lot of community-based organizations and other organizations waiting to see on their funding. Their new budget usually comes out April 1 and some of the organizations are carrying on trying to figure it out.
Q: What's your major role with the NDP?
A: I've got different roles as critic. I have northern affairs and Saskatchewan Transportation Company. I'm also an associate critic for First Nations and Métis relations. I'm also our caucus whip, so in the House I will keep an eye on our members and make sure they're ready for the bills and they're available when we need them in the house. I've had the role before and interim leader Trent Wotherspoon has asked me to fill those capacities, so I said by all means.
Q: Do you expect to keep those duties until the next election?
A: It depends. We have an interim leader right now and, once the provincial party decides when we have a leadership convention and a new leader comes in, it would be up to the leader to decide our roles. If I'm asked to change, I'm willing to do what I have to do for the team.
Q: Are you thinking about pursing the leadership?
A: No. People have asked me if I would consider it and, at this point, I'm comfortable where I'm at. I'll do my part as a team player and support the leader once our members have decided who it is. Different names are being brought up, but nobody has said for sure if they're running or not. It's going to be awhile before the party decides exactly what the process will be and when the date will be. I'm waiting for it and it will get exciting at that time, and we'll work hard to find a leader and work with that person.
Q: How long have you been an MLA?
A: Since June 25, 2008 when I was elected in a by-election. I was reelected in 2011 and again in 2016.
Q: Why did you join politics?
A: Mostly because of my grandparents. My grandfather was always involved with the Co-operative Commonwealth Federation and NDP. He was a proud Métis person and veteran who spoke his mind. Sometimes you need to work together and fight for the underdog and makes sure everyone is treated fair. My grandfather did that. I watched how he was and the way he ran the farm. He helped out his neighbours and those in the community. He was always doing his part and I could see the values he had. They've rubbed off on me and I want to help where I can. Politics wasn't something I wanted to get involved with, but you get involved in one community thing, then it branches out.
Q: Is it challenging?
A: Yes, sometimes it's frustrating when you raise issues with government after eight years of record revenue and they could've dealt with them. When a citizen comes into my office or phones me and they have an issue, I get to help them draft a petition and they get to serve it and get people supporting it. To me, it's serving notice to government the citizens of this constituency are not happy or have concerns and want something addressed. Then, the government can't say they weren't aware of it. Sometimes there's media attention and it holds government to account. Sometimes it makes them move in that direction and do something about it.
Q: What are your concerns?
A: I'm concerned about some of the Crown corporations such as liquor stores privatizing. They've even made a comment they're looking at an assessment or review of SaskTel in light of what the Manitoba government has done with their telecommunications. There's different issues which are concerning. Health care is a big issue and more of our youth are committing suicide or have addictions. I give compliments to chief Tammy Cook-Searson, council and community because they're trying to get a wellness centre operating. They're pushing hard. Many of our families have been impacted by suicides and addictions. I don't think there are many families who haven't been touched in some way. There's a crisis and we need to do something. I'm glad to hear more leaders speaking out. There's also homeless people in our communities. We need to do a better job at taking care of them. We live in a province with so much wealth and we can't leave the most vulnerable behind.
Q: Do you feel the North is prepared for the 2016 wildfire season?
A: The government might say that, but we'll wait and see what happens. We hear a lot of concerns and know the budget has been cut for years. Let's see what they're going to reinstate in the budget. We'll see how they reach out to the individuals on the land because they've been there generation-after-generation and know what to do. I don't see any change. My heart goes out to those from Fort McMurray because we were evacuated last year. If we're not ready, though, the government has nobody to blame but themselves.
Q: How does it feel to have so much support in the last election?
A: Premier Brad Wall was in La Ronge to support their candidate (Thomas Sierzycki) and there were different ministers here steady trying to support him. The media was also talking about the star candidate and it was going to be a close one and all that. But, I've been working hard for years dealing with the constituents and issues. The voters in the Cumberland constituency sent a clear message and, at the end of the day, it's an honour to serve the constituents for another four years.
Q: What are your thoughts on the Supreme Court decision that Métis people are Indians?
A: It seems like everything we've brought forward to the courts we've won. I've said that many times – whether it's hunting or fishing rights – we win. As our provincial and national Métis leaders move forward in the debate and discuss what exactly does it mean, it sends a message to the provincial and federal governments there is an obligation to Métis and non-status people. It's exciting times for us as a people. We're a very proud people, but now we've got the ultimate authority as far as I can see it saying the government has a responsibility to sit down and negotiate. That may take some time, but other things I think can be worked out fairly quick. I'm hoping with hunting and fishing in this province it will send the message to back off.