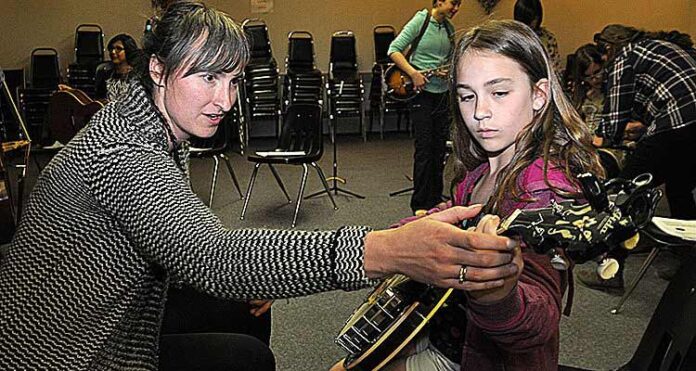 by Phil Ambroziak
Music was in the air in Loon Lake recently with the return of one of the community's own.
Eliza Doyle – who is described as one of Saskatchewan's most respected and highly regarded banjo players, and who grew up in Loon Lake – was back in the village Saturday afternoon (May 14) to host a children's bluegrass workshop at the Loon Lake Recreation Centre.
"Earlier in the week, we (Doyle and her bandmates, Paula McGuigan and Liza Holder) also held workshops at Ernie Studer School and at Makwa Sahgaiehcan School," Doyle remarked. "It was a great opportunity for the kids and for everyone to come together and celebrate bluegrass music."
Saturday's workshop was followed by a concert, and came in the wake of similar events held Friday at both the Meadow Lake Library and Artistic Incidents Studio, also in Meadow Lake. Each stop was part of the Northern Lights Bluegrass and Old Tyme Music Society's Youth Engagement Bluegrass Tour. The goal of the project is to engage youth in rural communities in bluegrass and old time music, and to provide opportunities for them to enjoy, participate and learn about the genre.
"We are so lucky to have such a strong and thriving bluegrass community in Saskatchewan, and it is an amazing opportunity to be able to travel into rural towns and share and educate people about our passion," Doyle said.
Doyle, who now resides near Saskatoon, went on to say the school visits saw students express a strong interest in the various instruments the musicians brought with them, while some of the older children were even given an opportunity to learn the basics of playing bluegrass. The same could be said about Saturday's event at the rec centre, which attracted a small, but highly interested crowd.
"They came to my school and gave a presentation," noted 10-year-old Zoe Schafer, who was also on hand for Saturday's workshop. "I thought it was really cool and wanted to learn more about the instruments they play."
Meanwhile, Doyle said coming back to her hometown after years of travelling, teaching and performing is very special.
"I'm proud of where I grew up, as it has shaped and influenced my music immensely," she said. "Performing where my roots began, and working with students in my old elementary school was a very fun, reflective adventure. We are also very thankful for the funding through the Saskatchewan Arts Board and the Culture on the Go program for this project, as this would not be possible without their support."
Doyle also noted the importance of keeping the tradition of bluegrass music alive within the hearts and minds of tomorrow's generation.
"It's so amazing to see a child light up with music," she said.