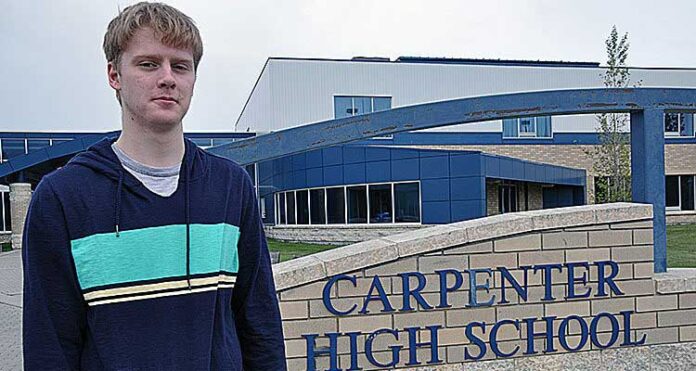 by Phil Ambroziak
A full-fledged member of the Canadian Armed Forces will be among this year's graduating class at Carpenter High School in Meadow Lake.
Carson Waterman, who was recently awarded a four-year, $190,000 scholarship to Royal Military College (RMC) in Kingston, ON, will be officially sworn in as a member of the Armed Forces June 29 while the CHS grad ceremony takes place June 30.
"I've been looking at this scholarship since the beginning of Grade 12," Waterman noted. "It's a very competitive scholarship, and it really just started off with me seeing if I could make it. I knew it would lead to a military career, which is a good path to follow and one that will allow me to realize my full potential. Plus, it's a fully paid scholarship, which isn't something I'm going to turn up my nose at."
Waterman will be studying naval combat systems engineering, an area of interest he's had for some time.
"It's pretty unique, but still close enough to electrical engineering and computer engineering that – if I decide to pursue a civilian career later on – I'll have a lot of skills to help me achieve that," he said.
However, Waterman also said he's not overlooking a potential long-time military career if it turns out to be the right fit for him.
"I start my officer training in July (the officer qualification course begins July 4), so I guess I'll figure it out from there," he said. "This is a huge achievement for me – I'm very happy."
He's not the only one. His father and CHS principal Larry Waterman is extremely proud of his son's success thus far.
"This scholarship is such a rare bird," Larry Waterman remarked. "I have a strong sense of pride for what he's accomplished, but the real hard work begins now."
The RMC program itself doesn't begin until late August. That's when the younger Waterman will find himself in Saint-Jean-sur-Richelieu, Quebec where he'll study French.
"There are four pillars to the college – bilingualism, military leadership and skills, academics and physical fitness," Larry Waterman said. "The first year in Quebec he will focus on learning French. After that, he'll be at RMC in Kingston."
In terms of qualifying for the scholarship, Waterman had to apply directly to the Canadian Armed Forces, the process of which included the completion of an aptitude test, a medical examination and more.
"It took about four or five months, but was worth the wait," Larry Waterman added. "Nationally, about 3,000 to 3,500 people apply for a a total of about 300 positions – it's very competitive."
"It was a hard process, but a positive reflection on not only the school but also the community," Larry Waterman continued. "They look for well-rounded individuals, and Carson has contributed a lot to both."
Other CHS graduates to receive similar scholarships in the past have included Kathryn Ward and Nikita Ens.
"Kathryn is still in the military as we speak, stationed I believe in Victoria, B.C., while Nikita studied for a year at RMC before taking a different course at a different university," Larry Waterman concluded.