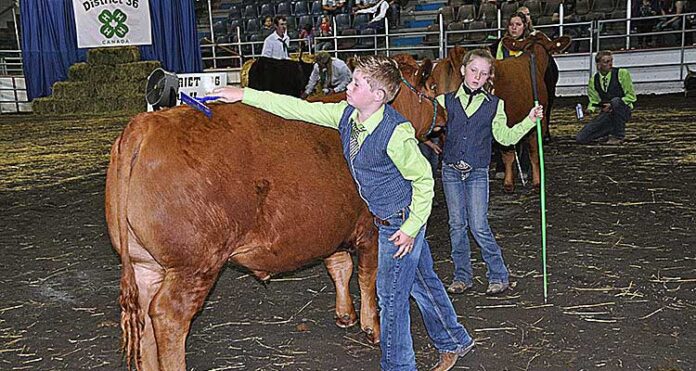 by Derek Cornet
Although the average price of each steer took a dip compared to last year, members were still compensated well at the annual District 36 4-H Show and Sale.
Held at the Meadow Lake and District Arena June 7 as part of the 96th annual Stampede Week, 38 steers were auctioned and fetched an average price of $2.34 per pound. This year, Rusch Noble of Pierceland claimed steer grand champion while Matthew Holba, also of the Pierceland club, took reserve grand champion.
In 2015, however, the price for each cow hovered near $3 per pound. Organizers Sheldon and Lori Shkopich said the sale likely took a hit because the cattle economy has slowed down since then. With the lack of rainfall, he believes ranchers are wary if they have the money to spare.
"People are skeptical about what's going to happen this fall," Sheldon Shkopich stated. "They don't know if they can be spending a bunch of money or not. If it's going to be dry, they might be buying hay."
Nonetheless, support remained strong and no 4-H participant left without $2 per pound. Currently, the price for each steer on the market is near $1.60 per pound. This year's major purchasers were Meadow Lake Livestock Sales with seven steers and Stevenot Quality Cuts, which took five.
Sierra Day of Pierceland also earned $2,400 for the quilt she created. She's made several quilts throughout the years and has received more than $5,000. Day was born with athrogryposis multiplex congenita, a debilitating disease which causes a lack of muscles and fused joints, and needed to use her feet to make them.
A trip to the Yukon Territory was also auctioned and brought in $10,000 for the Meadow Lake club. Allan and Evelyn Shkopich had the winning bid and they'll stay at an outfitters camp for five days in July. The trip was donated by Jim and Adrienne Funk as a way of showing their appreciation for the club.
"We wanted to donate because we felt our three boys all benefitted greatly from the 4-H club and ranching lifestyle," Adrienne Funk said. "They learned a lot and we wanted to put something back into the club."
She went on to say her youngest child, Colin, is finishing his eighth and final year in 4-H. Funk's grateful for the program because it taught her children social skills and how to take responsibility over a living animal. She said the steer raising was one of the best aspects of joining the club because it comes with a big reward at the end.