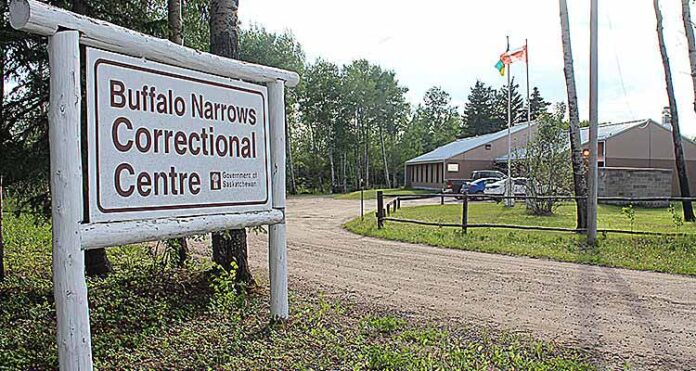 by Derek Cornet
Some northerners are asking what happens next after the Buffalo Narrows Correctional Centre was closed as a cost-savings measure by the provincial government.
"This is a big devastation for the whole North," remarked correctional officer Ashley Daigneault, who loses her job at the end of the June. "We're not going down without a fight – not with the little bit of programming we have. Our jobs and livelihoods depend on this."
Daigneault, along with fellow officers Darcy Howe and Willy Desjarlais, are among 15 people losing their jobs at the centre. They were also at a community meeting at the Buffalo Narrows Friendship Centre June 4 where they spoke with family, friends and Athabasca MLA Buckley Belanger about the closure. Daigneault – who commutes to work from Ile-a-la Crosse – said there aren't many job prospects once they're unemployed.
"You get to put your name on a bumping list in your geographical area," she stated. "What in this area, geographically, does the government have in this field of work? A lot of us will have to uproot our families and move south just so we can support them. We don't want to do that. This is our life – this is our home."
Daigneault is saddened by the closure and considers it another broken promise Premier Brad Wall has made to the North. She said, after the shootings in La Loche in January, he promised they'd pay more attention to the North and now it seems what little they do have left is being taken away.
"The premier and the prime minister said they're going to put their focus into the North, and said they're going to do this and they're going to do that," Daigneault added.
She's also concerned about what's going to happen to the inmates and their families. She said the prison population is 100 per cent aboriginal with inmates coming from Beauval, Dillon and Ile-a-la Crosse, and with their relocation, the rehabilitation process is lessened. Daigneault added there are families who came and visited their loved ones every week and now they'll be forced to drive further to do so.
While some people were hoping Belanger could reverse the situation, he told those at the meeting he doubt's the government will reconsider. He said he'd try asking them to do that, but didn't want to raise expectations because his primary focus is finding jobs for those most in need. Belanger invited the workers to Regina, telling them they need to build a case and the community has to rally behind them.
"I want to show Brad Wall the faces of the people they fired," he stated. "We have to fight back because there's going to be a lot of other cuts coming. We have to show them the North isn't going to let them do what they want."
Belanger also said it's a trend of forgetting the North when times are good and looking at it when times are bad.
According to executive director of corporate affairs Drew Wilby, the remaining 18 inmates will be either sent to Prince Albert, North Battleford or Besnard Lake, or could be released depending on conditions. He said the inmates are low-risk, with some working in the community during the day and returning to the prison at night. Along with officers, administrative staff and a director were also laid off.
The closure is expected to save $661,000 this year and $1 million annually.