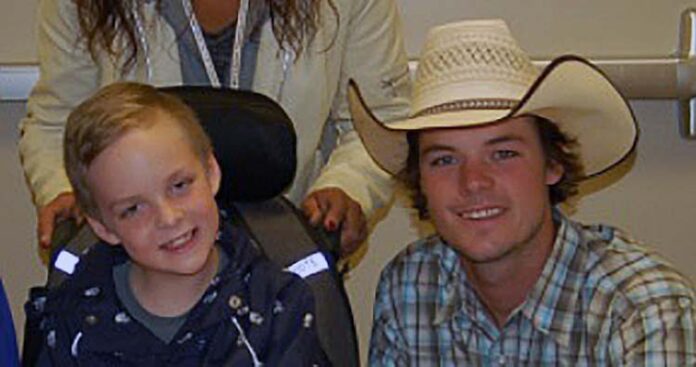 by Phil Ambroziak
Outrider Kale Lajeunesse experienced something much more profound than championship glory when he attended this year's Calgary Stampede.
"For me, it was very exciting yet humbling to see the joy these kids still have in spite of the issues they face each and every day," the Meadow Lake resident remarked about his recent visit to the Calgary Children's Hospital.
Lajeunesse, along with chuckwagon driver Rick Fraser, Fraser's wife, Sue, and trick rider Payton Bensmiller, visited the hospital Friday morning (July 15). Lajeunesse said it's common for the Calgary Stampede committee to encourage participants to sign up for extracurricular events throughout the community, and – when it was his turn – he immediately knew what he wanted to do.
"I was very happy to do it," he said. "I enjoy being around kids, as I work in the school system when it's not wagon season. If I'm able to go in there and relieve some of the pressure these kids are under – even if it's only for a few minutes at a time – I know it means a lot to them. If just being there to give them a hug, make them laugh or give them a high five helps them take their minds off their troubles, that's something I want to be a part of."
Lajeunesse, who is a father of two, admitted he's never visited a children's hospital before, but said he was inspired by the strength shown by the young patients he met.
"They're just like any other kids – they smile, they laugh, they want to be loved," he noted.
Lajeunesse went on to say he doesn't consider himself a hero in spite of how many youngsters look up to him and other Stampede competitors.
"That's what most people think when they hear about stories like this, but the truth is I'm a fan of them and how strong they are in the face of illness," he said. "People think outriders and wagon drivers are tough and strong, but all we do is race around a track for about a minute and 15 seconds each time. These kids have to live with what they have every day. That's why this was such a humbling experience."
As for the Stampede itself, Lajeunesse was only able to compete in the last two days of the event because of a knee injury he suffered at the Ponoka Stampede in late June.
"I was sidelined from the end of Ponoka to Day 8 of Calgary," he explained. "For the last two days, I had the opportunity to outride for driver Logan Gorst."
This was Lajeunesse's second year outriding at Calgary and, even though he didn't get to be on the track as much as he would have liked, he still described the experience as unbelievable.
"It's just such an incredible show from top to bottom – it was amazing," he said.
A newcomer to the World Professional Chuckwagon Association this year, Lajeunesse is currently ranked seventh overall in the WPCA outrider standings.