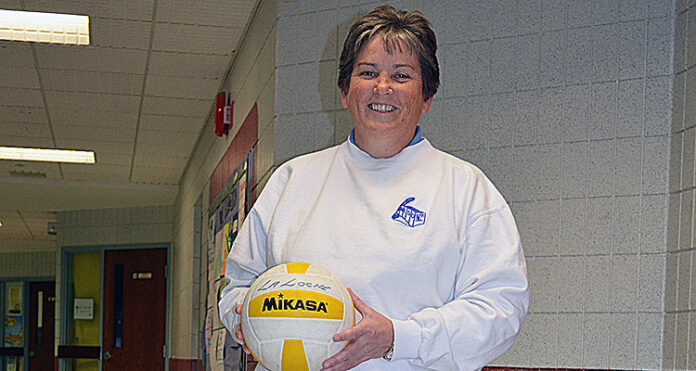 by Phil Ambroziak
It's been one heck of a ride for Phyllis Longobardi.
Although she now resides in her native Nova Scotia, the Saskatchewan High Schools Athletic Association (SHSAA) presented the long-time teacher and coach at La Loche Community School with a special Award of Merit prior to her departure earlier this summer. The award recognizes Longobardi's many contributions to school sports throughout the years, as both a coach and an organizer.
"Each year, they recognize four people throughout the province – one for each district – and, this time, I was fortunate enough to be nominated in the Northwest district," Longobardi explained. "It was quite an honour. A lot of the time you don't realize just how much you've done over the years, but then they start talking about so many wonderful things. Coaching was just something that seemed right for me, and, I believe, my involvement meant a lot to the kids too."
Born in Antigonish, N.S. and raised in the small fishing village of Queensport, Longobardi was actively involved in sports as a child, particularly basketball, volleyball, hockey, badminton and softball. While attending high school, she began officiating basketball, volleyball and softball. Later, she graduated from St. Francis Xavier University before accepting a grade 5/6 teaching position in La Loche in the early 1980s.
"I started in 1981, but left for a while before returning in 1993," Longobardi noted. "I worked for two years on the reserve school and returned to the town school in 1995."
Throughout her coaching career, Longobardi travelled thousands of miles with her various squads. As the school's boys volleyball coach, Longobardi and her teams captured four SHSAA medals (one gold, one silver, two bronze) and four SHSAA sportsmanship banners. She was also heavily involved with the organizational aspects of major high school sporting events when La Loche hosted various championships. In 2004, La Loche Community School hosted its first of three SHSAA provincial volleyball tournaments, while at the same time setting the standard for such events by introducing athletes, parents and officials to various aspects of the Dene culture.
Meanwhile, Longobardi's dedication has had an enormous impact on her players and colleagues, as was evidenced by her interactions with her team and fellow staff members when La Loche hosted the provincial volleyball tournament last November.
"Phyllis took care of us like we were her own," stated Alwyn Piche, a former player of Longobardi's turned colleague. "Phyllis always made sure we were well-mannered and respectful, not only on the court but off the court as well. Phyllis continues to display these great qualities and commitment to this day."
Longobardi has also influenced the development of volleyball officials. As an accomplished referee, she has worked at least six SHSAA provincial championships, as well as numerous provincial and national events for Volleyball Canada and the First Nation Winter Games. Known for her tough exterior, the people who know her best, however, believe it's easy to see how much she cares about the sport from every angle.
"I have had the honour and privilege to work with Phyllis as an educator and a coach for more than 35 years," remarked colleague and fellow SHSAA Merit Award winner Greg Hatch. "Passion, heart and a tremendous work ethic has allowed her to make such a difference in so many people's lives throughout her time in La Loche. I have great respect and admiration for Phyllis. She is a selfless person who gave her all."
Away from the classroom and the hardwood, Longobardi is described as a quiet and reserved person. How long she will remain away from La Loche, however, remains to be seen.
"It may seem as though I'm retired, but I'm not," she said. "I'm actually on sick leave and could come back at any time."
She decided to return to Nova Scotia in the interim because, seeing as she owns a home there, it made sense economically.
"For now, I'm going to continue to see where I'm at day-to-day," she said. "As for why I stayed in La Loche for as long as I did – it was because of the people. Everyone has always been so welcoming, and they're all such happy people who love life."