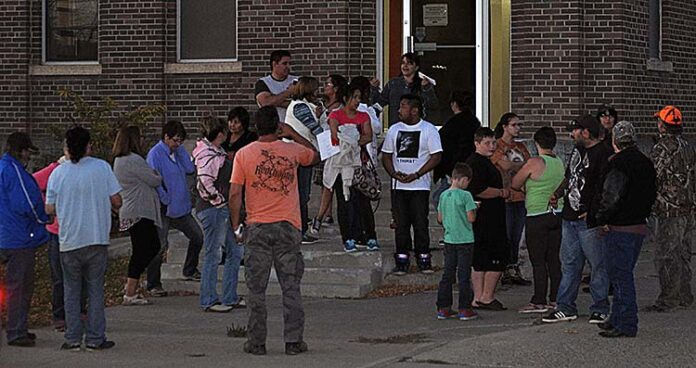 By Derek Cornet
It was standing room only Sept. 26 as dozens of concerned Meadow Lake residents crowded the council chambers seeking answers from their elected representatives.
A petition submitted by Clark Crescent tenant David Mohr at the regular meeting sparked an update by city manager Diana Burton on the potential sale of the trailer park. She announced the city has since sent a counter-offer to the original $700,000 offer discussed at the Sept. 12 meeting, but has yet to hear back from the potential buyer.
"I did get a chance to speak to one of the potential purchasers last week," Burton stated. "He did confirm the intention is for this to remain a trailer court. They do manage a number of trailer courts in other places. I am quite confident in that conversation with him. His only comment is he'd like to enhance it and actually see the trailer court filled up."
She went on to say, until there is a signed offer on the table, the identity of the purchaser would remain anonymous. Burton noted it's typical to keep such details from the public when conducting a counter-offer, so officials have time to present it to the buyer.
In a letter circulated amongst Clark Crescent residents prior to the council meeting, Mohr urged other tenants to attend. He claims he can't afford to move elsewhere if the new owners raise the rental fees, and feels members of city council are disconnected from the masses.
"These councillors are all very well off (and) a lot of them are business owners, they don't know the meaning of the word struggle," Mohr wrote.
Judy Larson was among the residents to attend the meeting and said it was disheartening to see people get up and leave without having the opportunity to speak. She's hopeful just by having so many people attend, councillors are more aware of the level of opposition against it.
Larson also believes council should let the matter rest until after the Oct. 26 election. She feels the process so far has been rushed and it should be re-examined before a sale takes place.
"Is seems strange – why is it so secret?" Larson asked. "One of the questions I have is what's the value of the land? They should have had a proper assessment done in order to think about selling or before even considering it."