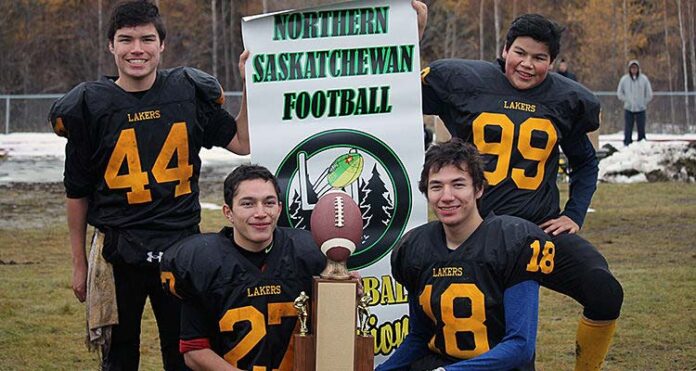 by Derek Cornet
The Pinehouse Lakers and La Ronge Churchill Chargers are champions.
Respectively, they snagged the 1A and 2A Ralph Pilz trophies after seven weeks of Northern Saskatchewan Football League action. While it marks the first time La Ronge has earned the title – they lost out to the Creighton Kodiaks last season – Pinehouse won for the second time after winning in the inaugural 2013 season.
On Oct. 24, Pinehouse hosted the Lac La Ronge Indian Band's Senator Myles Venne School Huskies and won by a score of 61-14 to claim the prestigious trophy. The Beauval Voyageurs hosted La Ronge Oct. 22, but ultimately lost 26-20. Chargers coach Gabe Andrews said there was never a point during the match when he felt comfortable.
"In six-man football, leads will disappear fast," he stated. "It was definitely a nail-biter right to the final whistle. Our defence held on and our offence scored when we needed to. It was a big day for Churchill Chargers football history. We were able to get the monkey off our backs by winning this northern championship."
While the win has generated excitement amongst players, Andrews added there's still a lot of work to be done. He stressed the team will be training hard leading up to quarter finals Saturday and hopes residents will attend and cheer them on.
"In order to be the best, we need to beat the best and we still have a long way to go to get to that point," Andrews noted. "I've always told my team, to be recognized in football in this province, is to win the provincial championship which is three wins away yet."
Three teams will represent the North Oct. 29 as the quarter finals of the Saskatchewan High Schools Athletic Association provincials football playoffs take place. La Ronge will be hosting Watrous while Hudson Bay will be at Pinehouse, and Beauval will be travelling to Wynyard. Senator Myles Venne was supposed to play Carrot River, but backed out citing a lack of experience. Whichever teams win will advance to semi-finals scheduled for Nov. 5.
"They haven't won a game all year and feel they won't be able to compete," superintendent of education Mark Williment said about Senator, noting Carrot River will get a pass. "We're going to have to look at our structure of 1A and 2A in the North and might go to conference again. We're going to take steps to ensure it doesn't happen again. We don't want to compromise their playoff system and we've done that."