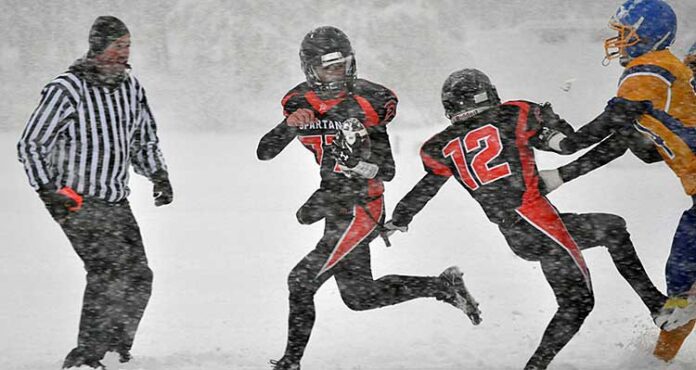 by Phil Ambroziak
The Carpenter High School Spartans football team just couldn't catch a break during the 2016 regular season of Saskatchewan High Schools Athletic Association (SHSAA) Nine-Man action.
The latest blow came at the hands of Mother Nature, whose decision to bring winter's wrath a little early severely impacted the Spartans' performance against the visiting John Paul II Crusaders Oct. 14. CHS' final game of the regular season saw them fall to the North Battleford squad 26-0.
"The score didn't really matter because it's a game everyone will always remember, but they're not going to remember it because of the end result," remarked Spartans head coach Sam Dawson.
The major storm, which began earlier that afternoon and eventually blanketed Meadow Lake and other parts of the Northwest with close to 30 centimetres of snow and freezing rain, had a huge impact on the team's ability to perform. Dawson said this, combined with injuries to some key players, is what ultimately led to the Spartans' downfall.
"We went down early," he said. "Bryan Klassen, one of our veteran players, suffered an ankle injury during the pre-game warmup, while our quarterback, Ethan Kyplain, also went down early."
This, Dawson added, led to some young, untested players having to step up including backup quarterback Josiah Griffiths.
"They're not the reason we lost because everyone – including Josiah – really played well for us in spite of the conditions," Dawson said. "It's unfortunate Kyplain hurt his hip, but we want to make sure he's well rested up before conference playdowns this Saturday. The snow certainly played a big role. We have some very fast guys, but they were basically nullified when it came to getting the ball outside and wide. They were unable to build any momentum, and JPII was all over us on the inside of the field. Our game is to get the ball out and go wide, but in those conditions that wasn't happening."
This Saturday's conference playdown will see the Spartans travel to Kindersley to face the Kobras. The winner of that game will move on to the SHSAA provincial quarter-final.
"It's going to be a good battle because we stack up pretty well against Kindersley," Dawson said. We just need to shut them down early. Meanwhile, it was great to see so many people come out to support us on Friday in spite of the weather. Hopefully we can make our fans happy by having a successful game this Saturday."