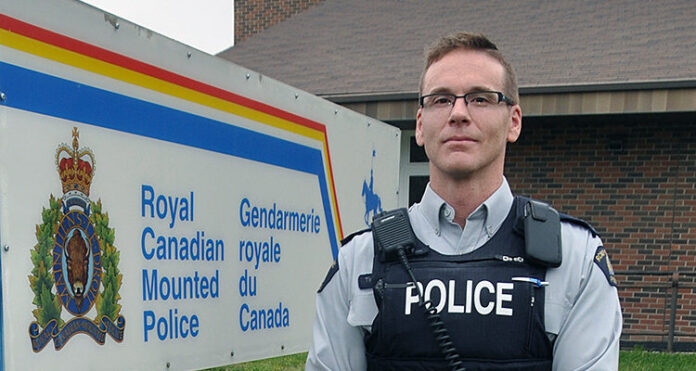 There's a new sheriff in town. S/Sgt. Tim Sartison recently joined the Meadow Lake RCMP as the new detachment commander. Recently, Tim spoke with Northern Pride about his first impressions of the community, his family and his career as a police officer.
Q: Tell me about your role here at the detachment?
A: My role as detachment commander is basically to oversee the whole unit, whether that be operations or the administrative side of things. It's my job to make those contacts with elected officials, attend meetings and make sure, as a whole, we're operating at the highest efficiency we can, and we're doing that in consultation with the mayor, chief and councils and the RM to ensure we're all working toward achieving the same goal.
Q: When did you take over?
A: Today (Oct. 14) will be one week. Last Friday was my official start date, so it's still very new. This is my first full week here.
Q: How long has your arrival here been in the works?
A: It's been in the works for a long time. I actually had a house in Fort Qu'Appelle that took me more than a year to sell. Specifically for this position, I guess I've known for about the last nine months I'd be coming here. I tried my best to be here before now, but unfortunately the real estate market in Fort Qu'Appelle was a bit slow. But, I'm definitely happy to be here now.
Q: What are your first impressions of the community and of the local detachment?
A: There's definitely a lot of positives. I'll speak first to the detachment. We're almost fully staffed. We're just waiting on one corporal who will be coming out of La Loche, and whose arrival I expect shortly. Other than that, we have a good group of members here. We have a lot of young, junior members who are very ambitious and very engaged in the community, which is nice. They're out there at the schools, on the streets, writing tickets – that's very nice to see. And, in my brief meeting with the mayor yesterday, that was acknowledged on his behalf as well. RCMP visibility right now is good.
Q: Why is it important to be so engaged in the community?
A: It basically comes down to fostering positive relationships. The main thing with being in the schools is we want kids to see police as their friend and as someone they can rely on. When you foster that positive relationship in the school, and when you maybe have to deal with a child outside the school in relation to a call, they feel safe coming to you, they feel safe dealing with you. Even, as that child grows up, if he or she comes into negative experiences in his or her life, they still might think back to those positive experiences they had with the police. I believe that can carry on throughout a lifetime if you build those positive roots at the school level.
Q: Do you have any specific goals you'd like to achieve during your tenure in Meadow Lake?
A: Right now, I'm just at the stage where I am meeting with community leaders. By doing that, I hope to get some consultation on what they feel the major issues are. Based on that, over the next however long I'm here, I can go from there and work on the issues that arise. The mayor seems very satisfied with the level of service we're providing right now. So, in the immediate future I don't see any wholesale changes. Sgt. Ryan How was in command prior to my arrival here and has made my introduction into this job seamless. He did a great job, is already on top of any issues that needed to be addressed. As far as I can say, I want to keep the train going and continue on with what's already been established here.
Q: What are some of the more prevalent issues the RCMP in Meadow Lake are dealing with at this time?
A: One of the major issues I've noted so far is the number of property crime offences. Something as simple as that affects so many people. If you have someone out there doing what we refer to as "car shopping", even if it's one or two individuals, they can go through an entire small community like Meadow Lake and hit just about every car parked on the street. If your vehicle is unlocked, someone goes through it and you have your stuff taken, that's an invasion of your privacy. You may not think it's that serious, but – in reality – it is very serious because it's a breach of someone's privacy. First of all, I want to encourage citizens to report every time something like this happens. I'm not going to say we're always going to be able to solve every single incident, but we have to make sure our patrols are for a purpose. We want to patrol the areas where this is going on. That's how we gather our statistics and make our patrols have a purpose. Car shopping is not unique to Meadow Lake, either. This has been the case in every community I've policed in.
Q: How long have you been a member of the RCMP?
A: In December I'll have 16 years with the RCMP. My first posting was Estevan. From there, I went to Yorkton Municipal Detachment, then to Fort Qu'Appelle where I received my first promotion to corporal. I eventually reached the sergeant rank there before heading to Criminal Operations in Regina, then to Indian Head as detachment commander before coming here.
Q: Was this the career you always envisioned for yourself?
A: Yes, very early on in my life, I had some positive interactions with the police and that has always stuck with me. I went to college at Lethbridge Community College where I received a diploma in criminal justice. Then, I went to university in Montana where I received my bachelor of science degree. Very early on I knew this is where my career was headed. At age 25 I enrolled in the RCMP after serving a year as an auxiliary constable in my hometown of Swift Current. Policing really has been part of my life for a long time.
Q: What's the most rewarding aspect of being a police officer?
A: I really just like the community engagement and the sense we're out there trying to make a positive change. I still like having to work every day, I enjoy interacting with the community and I like taking the experiences I've had and implementing the things that work.
Q: Tell me about your family.
A: My youngest, Justice, is four years old and we're currently trying to get him enrolled in the Pre-Kindergarten program at Lakeview Elementary. My middle child, Isaiah, is six and is in Grade 1 at Lakeview, and my oldest is Samuel. He's eight and in Grade 4 at Lakeview. So far, my wife, Aimee, and I are very impressed with the school system here. They've been so welcoming. Aimee is also a federal government employee, but took a five-year leave when our children were younger. Now, she'll probably start looking for employment in the community.
Q: Do you find police in general are given the respect they deserve from the public?
A: Social media has definitely impacted the RCMP. In saying that, however, when you're out in the community and actually talking to people, I'd say the majority of people in this province or in Canada still support the RCMP. Certainly there are people out there who are non-supporters and, because of social media, they're able to give us their opinions and there's a much bigger ear out there for people to listen with. What's going on in the States right now is very unfortunate. I believe it is impacting our recruitment levels. Wearing that red serge and walking out with your Stetson on, that's a moment of pride for an RCMP member and I think we really need to maintain that.