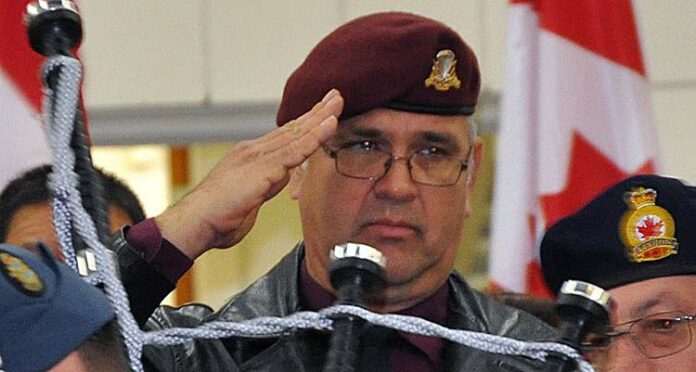 by Phil Ambroziak
The majority of those in attendance during the Remembrance Day service held at the Meadow Lake Civic Centre Friday morning were surprised when one of the guests unexpectedly took to the stage.
Saskatoon area resident Dave Bona, a former member of the now disbanded Canadian Airborne Regiment, made his presence known during the closing moments of the Nov. 11 proceedings when he spoke to the capacity crowd about the harmful side-effects of the anti-malaria drug mefloquine, as well as the impact he believes it had on Flying Dust First Nation member and former soldier Clayton Matchee.
"The Matchee family has not been treated very well by this whole situation – they've been ripped apart by the whole incident," Bona explained in a subsequent interview. "My intent (on Remembrance Day) was to reach his community and let them know (following an investigation) a world-renowned expert on the subject has acknowledged in front of a Veterans Affairs standing committee Clayton's actions that night were due to mefloquine intoxication. The Matchees did not raise a killer. Their son was on a psychotic break from reality because of this drug."
While serving as part of a peacekeeping mission in Somalia in 1993, Master Cpl. Clayton Matchee and Trooper Kyle Brown – both members of the Airborne's 2 Commando – were linked to the torture and death of Somali teen Shidane Abukar Arone. When the story broke, it made headlines across Canada and the world, leading to an investigation that ultimately resulted in the Airborne's disbandment. At the time, however, there were still some who pointed out Matchee, as well as others serving in Somalia, had been the recipients of mefloquine, an experimental drug known to cause paranoia, lack of judgement, neurosis and other mental side effects.
Bona, who recently joined others to testify about the drug and its side-effects before the Veterans Affairs committee in Ottawa, reiterated the need to make the public understand why Matchee acted the way he did that night. Matchee himself now resides in a care home in North Battleford having suffered brain damage following a failed suicide attempt. In 2008, it was determined Matchee was unfit to stand trial and the case against him was thrown out.
"My intent was to erase some of the shame and guilt," Bona continued. "No one has stood up for this family. I know so many soldiers who were given mefloquine and later committed suicide. That drug has killed more Canadians than the Taliban ever has."
Also in attendance during the Remembrance Day service was Desnethé-Missinippi-Churchill River MP Georgina Jolibois. She met Bona last month when he was in Ottawa to testify and, although she was aware he planned to attend the local ceremony, she claims she was unaware of his intent to interrupt the proceedings.
"He said he would be in Meadow Lake to assist the Matchees and to give his support to a fellow mate, but I did not know he would get up and speak," she said.
Bona, however, believes this may not entirely be the case.
"Some members of the Matchee family were there and knew what I was planning, and I also think the MP knew something was up," he said.
Whatever the case may be, members of Royal Canadian Legion Branch 76, who organize the Remembrance Day service each year, were indeed kept in the dark.
"We had no idea," stated branch president Terry Harris. "He sprung that on us altogether. In my eyes his message was appropriate because there has been so many questions about what really happened in Somalia. The government tested this drug on these guys, but look at what happened."
Harris did, however, say it would have been appreciated if Bona made the Legion aware of his plan beforehand.
"We really should know ahead of time if someone would like to say something at the service," he said. "We didn't know who he was at first – he could have been a terrorist for all we knew."
Also on stage for the Nov. 11 proceedings was Meadow Lake mayor Gary Vidal. While he did not comment on the subject matter at hand, he did not appreciate the way in which Bona interrupted the service.
"In my humble opinion, it was the wrong time and the wrong place for this type of statement," Vidal noted. "I would suggest it disrespected our extremely hard working local Legion members to spring this on them without permission."