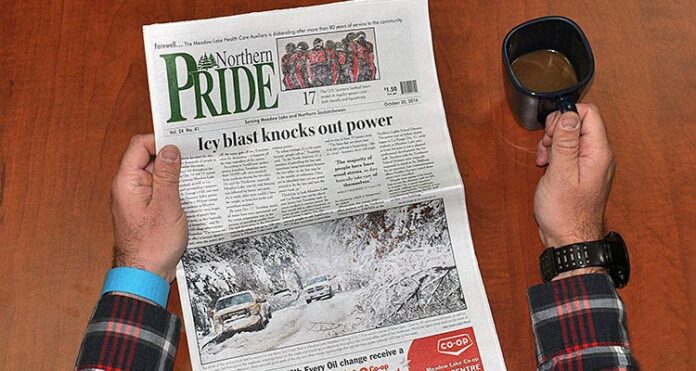 Meadow Lake is often criticized for its city status, as many folks – especially those who have lived in the community for a long time – still view it as a small town.
If there's one thing, however, that cements the fact Meadow Lake is indeed a city it has got to be the difficulty involved in finding a decent parking spot on Centre Street during the midst of a busy work week. Now, this minor annoyance could become even more, well, annoying if city council decides to grant the request of Ryan Haggerty, pharmacy manager at Madill's Drugs. Recently, Haggerty wrote a letter to the city asking for council to approve up to two handicap parking spaces in front of his store. Haggerty believes, because Madill's is a pharmacy, handicap spaces near the entrance of the building are a must considering the number of injured, ill or disabled people the business serves. His opinion does hold some merit, but, at the same time, what sort of impact would such a move have on the downtown as a whole?
Eliminating one or two regular parking spaces is by no means going to help what's already a messy situation at times. And, pharmacy or no pharmacy, other businesses located downtown may not appreciate such a courtesy being granted to Madill's and not to them. While the existing handicap spaces on Centre Street are located near the Meadow Lake Primary Health Care Centre and the Meadow Lake Co-op pharmacy, there's also a physiotherapy clinic located on the next block. Certainly people on crutches or in wheelchairs often frequent that business, but they don't have a designated parking space out front nor do they have easy access from the street to the sidewalk. Meanwhile, there are many, everyday businesses that could also cry foul over the precedent that would be set by granting the Madill's request. After all, handicap people are allowed to shop at Martodam's, dine at Wayne's Café or do their banking at the various financial institutions just like anybody else.
At this point in time, council plans to look at the bigger situation before making a decision. This is a wise move. Concurrently, it would be nice to see the city (or the police) also consider stronger enforcement when it comes to people who don't respect existing handicap spaces and other "no parking" zones.
In the past, permission was granted to the city's bylaw enforcement officer to patrol the parking lot at Extra Foods where, to this day, drivers who clearly have no right to or no need to, still park in handicap spots, fire lanes and spaces reserved for expectant mothers or people with small children. It's discouraging to see so many people throw morals out the window if it means they don't have to walk those extra few steps.
A recent draft version of the city's 2017 budget calls for the hiring of a second bylaw officer. If this does indeed come to pass, perhaps there will be more time to focus on this concern and drive it home once and for all that rules exist for a reason.