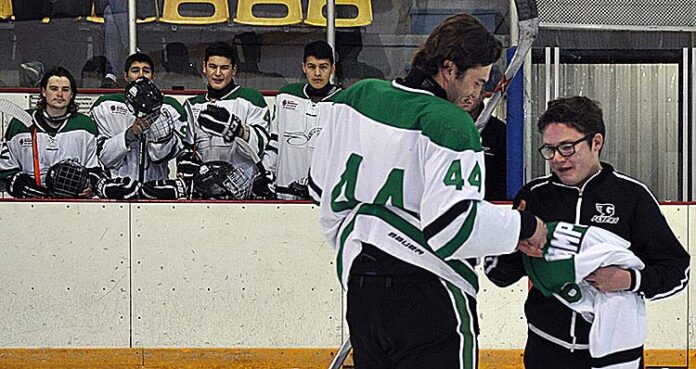 by Phil Ambroziak
It was a moment Andrew Campbell will never forget.
The 14-year-old game announcer for the Meadow Lake Midget AA Stampeders was recognized for his contributions Saturday (Dec. 17) when team captain Owen Dancy presented Campbell with his very own Stamps jersey signed by all members of the team.
"One of our coaches, Mike Radford, met Andrew when he came to Jonas Samson Junior High," Dancy said. "Andrew wants to be a professional sports announcer and, when Mike heard about this, he asked him if he'd like to come out and be the announcer for all our home games. I've seen Andrew at just about every senior Stampeders game, every senior Broncos game and every senior White Sox baseball game, so I know he is a die hard sports fan."
Dancy got to know Campbell a lot more as time passed, adding his enthusiasm for the game never wanes.
"Even during our rough patches, Andrew is happy as heck to be there, which shows how much passion he has for the sport, the team and announcing," he said. "Andrew does a great job announcing. He's not shy and he takes pride in his job. I recognized that right away and thought it would be cool to get him his very own game jersey with his last name on the back."
Dancy presented the jersey to Campbell prior to the playing of O Canada at the Stamps' home game against the Saskatoon Screaming Eagles.
"During the anthem, I glanced back and saw Andrew slipping the jersey on, which gave me a great feeling," Dancy noted.
According to Campbell, it was an unexpected honour.
"It was a surprise," Campbell said. "It's always nice to be honoured, and hopefully the rest of the season goes well for the team."
Campbell has been announcing for the Midget Stamps for close to two months now.
"One of the coaches hooked me up," he added. "It's a lot of fun."
As for the game itself, Meadow Lake fell to the Screaming Eagles 7-1.
"The first period was full of action with both teams getting good chances," stated Stamps team manager Trevor Finlay.
The score was 1-1 after the first with the lone Meadow Lake goal coming from Geordie Janvier. The second period started well for the Stamps, but an early mistake gave the Eagles a 2-1 lead. The mistakes continued, which led to a number of power plays for the Eagles. The score was 7-1 after two.
"The team regrouped for the third and played a well disciplined period, which led a few scoring chances including a few posts and cross bars," Finlay said. The final score, however, remained, 7-1."
Overall, shots on goal were 49-32 in favour of the Eagles.
"We didn't come ready to play or we weren't mentally prepared going into Saturday's game," Dancy said. "We showed spurts, but it wasn't good enough to get a win."
The team travelled to Big River Sunday for a game against the Beardy's Blackhawks. (Seven players on the Meadow Lake team are from the Big River area.)
"We had a great start with an early goal, but Beardy's tied it up a couple of minutes later," Finlay said. "We continued to press hard and had a 4-1 lead after the first. The team continued to play well and went on to win 8-1."
Scoring for Meadow Lake was Brody Swanson with four, Kaleb Brunet, Kaleb Bull, Deni Kantel and Easton Neufeldt each with single tallies.
"We had a much better game Sunday," Dancy added. "We won 8-1, but there are still some things we need to fix. Still, coming away with a win is a good way to end the first half of the season. It was also nice to get a change in environment for a home game. I felt the boys were pretty pumped to play. After the Christmas break, we will have a fresh new start where we can go on a roll. We are a hard working team, but just need to bring it every night. I know we can beat any team in this league."
Currently, Meadow Lake is ranked 14th in the Centre Four Hockey League with a record of 4-10-1-1.