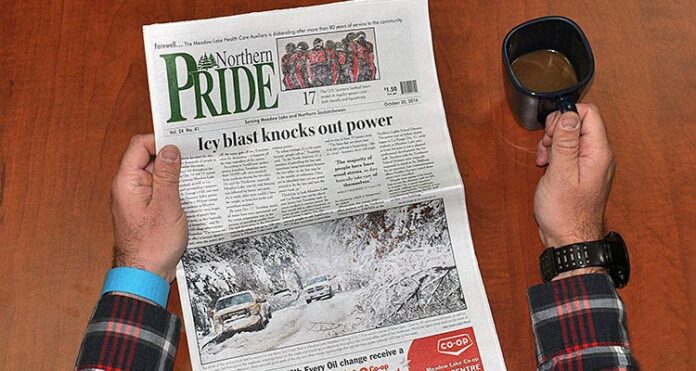 Hopefully the yule log will be the only thing burning this festive season.
Santa arrives two nights from now, but – in Meadow Lake and other parts of the Northwest – Christmas has been a tough time for some residents in recent years, particularly when it comes to fire bringing an abrupt halt to the holiday proceedings.
Some examples include early 2015 when Bud Ronald lost a house he owned on a rural property west of Meadow Lake, while flames also ripped through the home of Shawna Lumgair and her son, Arlan, Jan. 1 of this year. No one was hurt as a result of these fires, but neither incident is something the homeowners ever would have considered when completing their holiday wish lists.
This year, fire has reared its hot head once again. According to Gwen and Daniel King, someone set a number of hay bales ablaze on their property north of the city last week in what they believe is nothing more than a wanton act of mischief with no real benefit for them or the supposed perpetrator. Meanwhile, this past weekend, Meadow Lake Fire and Rescue members responded to a minor garage fire on 2nd Avenue West and, Dec. 13, Jeffery Catarat saved the lives of a Buffalo River Dene Nation family when he spotted an "eerie glow" coming from their home. Acting quickly, he roused them from their sleep and helped them escape the building before tragedy could strike. Unfortunately, the house was lost – the victim of fire caused by a wood stove growing too hot.
Indeed the causes of each of these fires differ in nature and, for the most part, could have happened at any time. Their proximity to Christmas is simply an example of coincidence at its best (or worst). Still, there are some important safety tips to keep in mind to ensure the holidays remain happy.
According to information provided by the Government of Saskatchewan, it's wise to select a dark green, fresh cut Christmas tree with a strong evergreen smell. Also, make sure the base of the tree is immersed in water at all times and use only CSA-approved light strings. Space heaters should also be placed at least three feet away from anything that can burn and, when using a wood stove, burn only small amounts of wood at frequent intervals. Don't burn paper, wrapping paper or pine boughs, as this can cause sparks to drift out your chimney and ignite your roof.
Also, refrain from using lit candles to decorate a Christmas tree, and always keep a close eye on pets and young children. Fascination and curiosity about fire can lead a child to play with matches, lighters or flames within easy reach.
These are just a few precautions to take in order to have a safe and happy holiday season. Merry Christmas!