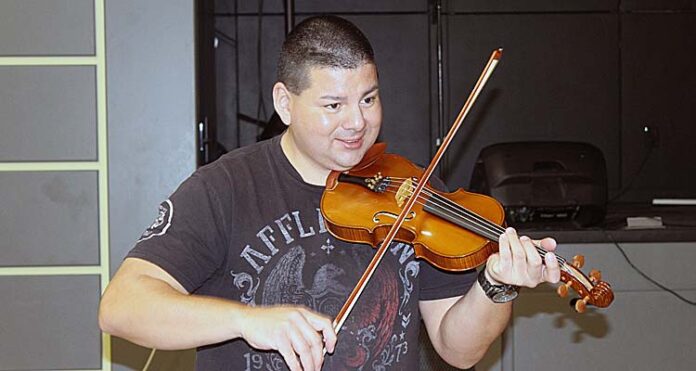 by Derek Cornet
The goal of a new program in Beauval is to keep Métis culture alive.
On Jan. 28 and 29, about a dozen people gathered at the village's community hall to learn how to play the fiddle for the first time. Led by instructor Adam Daigneault of Ile-a-la Crosse, the program was made possible by a $4,500 grant from the Creative Kids Cameco Northern Cultural Fund. The cash was used to purchase the eight fiddles necessary to proceed.
"The kids really want to learn," Daigneault said of the first two days. "Their interest shows and they're eager to learn how to play. It seems to me they enjoy it. I didn't have much trouble getting them to sit down and play."
While Daigneault is currently living in Prince Albert attending SUNTEP to become a teacher, he said the program will be ongoing with sessions occurring every two weeks. So far, Daigneault has discussed violin familiarization with the attendees, as well as the proper way to hold and play the instrument.
He also stated bow techniques was the subject they left off on.
"The reason I want to be involved is to preserve Métis traditions and cultural practices," Daigneault commented. "I enjoy playing the fiddle because it's a good hobby, pastime and it's something that makes people happy. It makes people smile and dance, and the fiddle has always been in the North."
Currently, the fiddling program in Beauval is restricted to young people only, but plans are in the works to expand it to adults. Once it's established, the Beauval Recreation Board also hopes to provide jigging lessons to residents.
Beauval teacher Rhoda Roy attended the first sessions with her nine-year-old son, Porter Laliberte, and noted she had never heard of fiddle lessons being offered in the community until now. She's also happy her son will have the opportunity to learn.
"I really enjoy music and I feel Beauval is a musically talented community," Roy remarked. "I really want him to be part of that. When he's older, maybe he'll want to start a band. I find a lot of kids end up doing that here."
Roy went on to say keeping Métis traditions alive is important to her, so she's excited to be involved with the new program.
Also, she expressed gratitude for Daigneault agreeing to instruct the program, adding he's always been known for his fiddle playing skills.