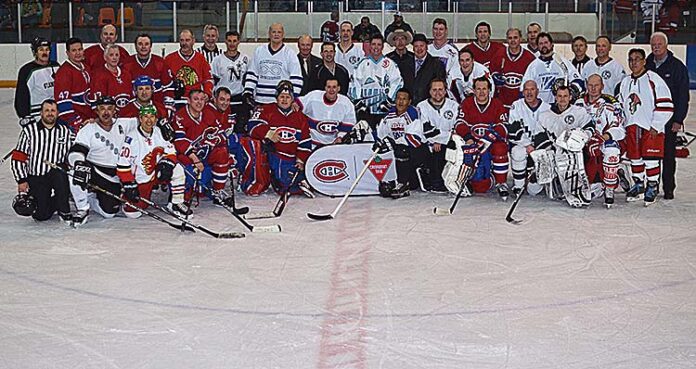 by Phil Ambroziak
The biggest crowd to witness a hockey game in Meadow Lake in years converged on the local arena March 2 for a night destined to go down as one of the most memorable in the community's history.
At least that's how organizers, fans and athletes alike feel about the recent Montréal Canadiens Alumni-Meadow Lake Selects game that not only brought a smile to the faces of more than 1,500 hockey fans young and old alike, but also served as a major fundraiser for the new Northland Pioneers Lodge.
"It's huge," remarked lodge fundraising committee co-chair Guelda Wood prior to game. "It means a lot to the fundraising committee to be able to help out with an event like this. Everyone is excited about it because, not only do they get to watch the alumni game, they also get to donate to the lodge. It's a win-win."
In total, more than $20,000 was raised for the new long-term care facility, Meadow Lake Minor Hockey and Meadow Lake KidSport.
"This is just a tremendous event for the community overall," noted Meadow Lake mayor Gary Vidal, who was initially scheduled to compete as a member of the Meadow Lake Selects before a last-minute "trade" to the Habs.
Vidal, along with Flying Dust First Nation chief Jeremy Norman, were invited to join the Montreal squad just prior to the opening faceoff. Being a lifelong Toronto Maple Leafs fan, donning a Montreal jersey was the last thing Vidal expected to do, but the importance of supporting a great cause prevailed.
"The initiative shown in getting this thing going has been awesome," he added. "What a thrill to play with these former Meadow Lake residents who have come back, and what a thrill to go out and skate with the Montréal Canadiens Alumni. There are some cool things you get to do as a mayor and there are some not so cool things, but this is definitely one of the cool things."
Both Vidal and Norman scored in Thursday's game, helping the Habs Alumni earn an 8-5 victory over the hometown team. In spite of the loss, however, members of the Meadow Lake Selects were simply honoured to have an opportunity to be on the ice with some of their heroes and to contribute to the ongoing efforts to provide equipment and furnishings for the future long-term care facility.
"Meadow Lake is my hometown, but I've been away 10 years now," noted Bonnyville, AB resident Shane Buchta. "I love this chance to come back and skate at the old rink. I played my minor hockey here and later played 10 years with the Stampeders."
Former Montréal player from the 1970s and current Habs Alumni coach Yvon Lambert agreed with how fun such events can be.
"This is our first game of a four-day road trip," Lambert said. "It's my first time here in Meadow Lake, but wherever we go we're always well treated. It's good hockey, a lot of fun and we just had a great VIP meet and greet before the game to sign autographs. The people seem very nice and they're very happy. I hear the alumni was last here in 1985 and that was the year I retired, so it's great to be here today."
The VIP meet and greet experience took place in the arena's mezzanine and was open to fans who purchased a special ticket. Those in attendance were able to receive autographs, take photos and rub elbows with Lambert, as well as former NHLers Jessie Belanger, Patrice Brisebois, Alain Coté, Norm Dupont, Michel Goulet, Rick Green, Jocelyn Lemieux, Steve Penney, Stephane Richer and Richard Sevigny.
"We got to the airport in Saskatoon today and people were asking what we were doing there and why we had our hockey bags," Richer stated. "I told them we were headed to Meadow Lake and then on to a few other places, and they were really happy about this. It's going to be fun. Everyone is excited and it's also fun for us. People don't realize we (former Habs players) don't get to see each other too often anymore. So, with this, we get to travel together, we share stories – it's fun for all of us."
Richer went on to say his favourite part about meeting the fans is the genuine love they have for the sport itself.
"The people I meet really appreciate how we played hockey in the past – the respect for the game, the respect between players, the quality of the game too," he said. "They are proud to be Canadiens fans and for us it's fun."
First in line at the VIP meet and greet was Meadow Lake resident Lee Papineau. She was overwhelmed to meet some of her long-time favourite athletes.
"I was born and raised a Montréal Canadiens fan on both sides of my family," Papineau said. "This is the closest I could get. I really wanted to see Brisebois and he signed me a nice picture with my name. I'm just so excited. I spoke French to them, and they liked that. Everyone says there's that energy and we get to have that right here in Meadow Lake. I'm happy to experience that feeling."