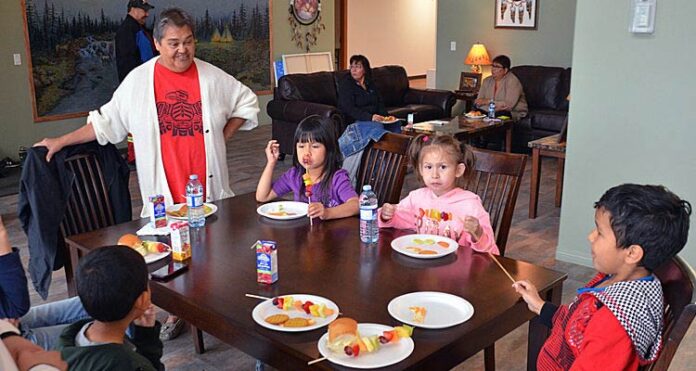 by Phil Ambroziak
Then, now, forever.
That's a concept Flying Dust First Nation members are hoping will gain in popularity as more and more young people take time to meet and learn from the community's elders. On May 25, students from Kopahawakenum Elementary School visited the elders' lodge on Flying Dust during a community house warming party to present residents with a series of paintings they made and to get to know the elders a little more.
"We held a groundbreaking ceremony when the project began, as well as a grand opening last summer," explained Carolyn Lachance, Flying Dust's community events coordinator. "But, at the time of the grand opening, we weren't completely finished. The elders' lodge was finished late last year, and the last tenant didn't move in until March of this year. Now all 10 units are occupied, so we thought it would be nice to give the public an opportunity to tour the facility."
Lachance also noted, when the idea for an elders' lodge first arose, it included plans to connect the future with the past.
"Although nothing is formally in place yet, the plan is to develop some sort of program where school children can regularly visit the communal area at the lodge, meet with elders, listen to traditional storytelling and do other activities," she said. "The recent house warming event was sort of an introductory to this concept. It may take some time to get an actual program up and running, but at least now the kids are more familiar with the lodge and the people who live there."
Lachance also said, when visiting an elder, it's tradition to bring a gift of some sort. In return, the elder provides you with a meal.
"We provided the food that day on behalf of the elders, while the school children delivered paintings," she said. "I believe things are off to a good start."
Elder Liz Derocher agreed.
"They (paintings) look really good to me," Derocher noted. "It's pretty good work for young kids."
Derocher moved into the lodge in March.
"It's good," she said of the facility. "There are people to visit – it's a nice place to call home. It's a beautiful building. It was a good thing for the community to come up with something like this for the elders."
Lachance meanwhile, said the entire community is proud of the elders' lodge.
"It's the first of its kind in Canada and I believe our tenants are really excited about living in such a beautiful facility," she said. "I'm also looking forward to some day having our school children visit the lodge at least once a week because, traditionally, the elders were our children's teachers."