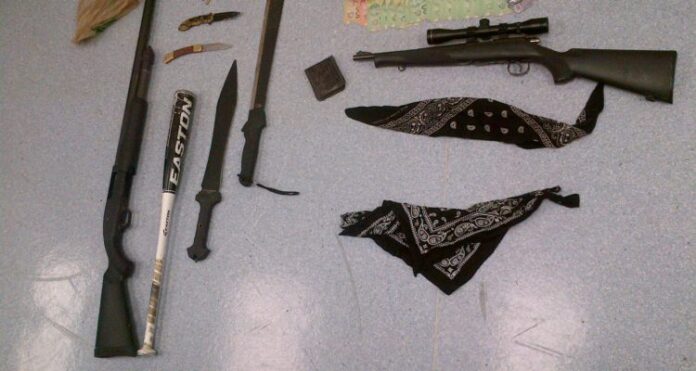 On May 29 around 1:30 a.m., Meadow Lake RCMP received multiple calls regarding what were believed to be gun shots in the 500 block of Second Street West.
Throughout the night, RCMP were able to locate suspect's vehicle, which turned out to be a stolen truck. Further investigation led to two suspects being identified and subsequently arrested shortly before 10:00 a.m. A 17-year-old and a 42-year-old are being held in custody with multiple charges pending against them. No damage was found from any gunshots and no injuries reported.
Around 1:00 p.m., RCMP acted on information that evidence may be located at a residence on Ninth Avenue West. A 17-year-old male was located in possession of a shotgun at that residence. Numerous other weapons were seized including swords and bats. A .22 calibre rifle believed to be stolen was also recovered (see photo). As a result of this seizure and arrest, a second residence on Ninth Avenue West was searched by RCMP and Draysen Bigham, who was wanted on previous warrants, was arrested as a result. A large quantity of crack and soft cocaine, and cash was also located in the residence.
At this point, Meadow Lake RCMP believe all suspects involved in discharging the firearm last night are in custody. Charges are pending on all and will be sorted out over the next 24 hours.
This event is believed to be related to an event on Friday, May 26 where, at approximately 11:30 a.m. on May 26, a male driving a Black GMC Sierra 1500 Extended Cab truck with chrome door bumper strips and smoked tail lights passed a semi on Highway 4 South. When this truck passed the semi, the truck cut the semi off and then pointed a handgun at the driver. The truck then turned around and drove back towards Meadow Lake. The driver of the truck is described as approximately 30 years of age, aboriginal, stocky and wearing dark clothing.
Meadow Lake RCMP investigators believe the recent increase in violence is directly attributable to the drug trade and a specific group of people. The recent events regarding ATV's being driven erratically through Meadow Lake with the driver's face covered is also believed to be related and the same suspects involved.
Anyone with information regarding these events is encouraged to call the Meadow Lake RCMP immediately at 306-236-2570. Any suspicious activity should also be reported.