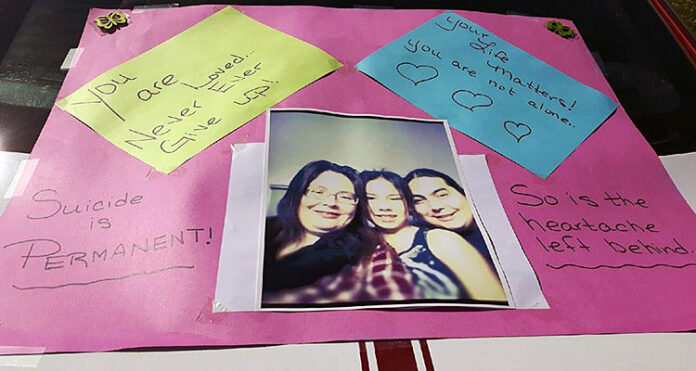 by Derek Cornet
The suicides of four young women in the Northwest this month have family and friends mourning their passing.
In August, two members of the Birch Narrows Dene Nation ended their lives, as did a young woman from Flying Dust First Nation and another from Ile-a-la Crosse. Their deaths have left some children without mothers and others asking why.
"As a community, we're all affected," said Ile-a-la Crosse mayor Duane Favel. "The ripple effect of this touches every individual. It's pretty tragic. The initial response is always shock when something like this happens. There's anger and people are wanting to know what they can do to address this issue."
Since the suicide, Favel noted village council has met with the Keewatin Yatthé Regional Health Authority where they asked for a plan to solve the issue. He wants to see action taken in the North and for each community to have a unique plan.
"There are not enough resources in northern Saskatchewan and the government has failed to provide those supports and strategies," Favel added.
Michael Roberts, who arrived in La Ronge Aug. 30 after walking from Prince Albert to La Ronge to raise awareness regarding suicide, also stated the government needs to do more. Since six girls between 10 and 14, including his own, took their lives in northern Saskatchewan in October and November last year, he said not much has been done considering it took him three months to see a counsellor.
"It's always been a problem, but a lot of people tend to push it to the side just thinking it happens," he remarked. "We've got to show our support to the youth and the people going through hard times."
The 240-kilometre trek began Aug. 25 where 14 people set out on a planned six-day walk. While the walkers come from the two locations, as well as Montreal Lake, Saskatoon, Stanley Mission and Timber Bay, suicide is the common thread that brings them all together.
"Once we get to La Ronge, we're going to walk around to the band schools then take the cut-across through the reserve and end the walk at the cemetery where our loved ones are buried," Roberts explained earlier this week.
Roberts was accompanied on the walk by his wife, Lynda, and said they decided to participate in memory of their daughter, as well as to continue their own personal healing journey. By doing so, Roberts wants to put the issue back in the spotlight before it gets worse.