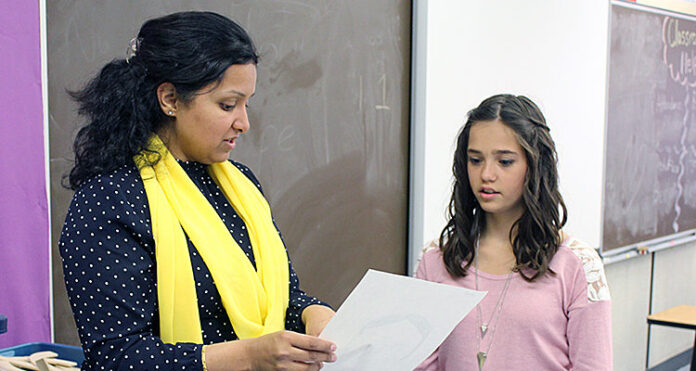 by Derek Cornet
'Family' was the word most used by staff when describing what makes Dorintosh Central School (DCS) unique from the rest.
"The classroom can become more like a family," said new DCS principal Michael Radford who doubles as the Grades 6-8 teacher. "We're close because of the numbers. We get to develop one-on-one relationships with the students. I feel we can help individual students with their needs in more cases than the normal schools. There's no other school that has the ability to do that like we do."
As of this month, 24 students are enrolled and they're instructed by a five-person staff including Radford, Bobbi Greedus (educational assistant/wellness coordinator), Liakat Farah (Kindergarten to Grade 3), Scott Thompson (Grades 4 and 5) and administrator Sandra Bannister who has worked at the school for 43 years.
"Sandra is the heart and soul that keeps everything rolling around here," Radford stated.
Radford just took on the role of principal this semester, but taught at Jonas Samson Junior High School in Meadow Lake the past five years. He said it has been a bit of a transition, but noted he also attended a small school growing up. With having to teach several grade levels and other duties, Radford said it can be challenging.
"If I do a lot of cross-curricular teaching, as well as focus on certain curriculum in certain years, it helps us manage more than one curriculum and balance the class size," he explained.
Meanwhile, Farah joined the staff this month after relocating from Toronto while Greedus has been at DCS for 11 years and Thompson for seven.
"To me, these smaller schools have a family feel and we know these kids inside and out," Thompson remarked. "We have a chance to develop some solid relationships with the students because we know their family history and what's going on in their lives. It just really allows you to develop a deeper bond with each of our students."
He went on to say staff are also able to be more flexible than other schools when an issue arises. Thompson said at larger schools it's harder to do that, while change at DCS is easier to achieve. He also noted the students at DCS hold on to their childhood longer.
"Our Grade 8s are out playing hide and seek with the younger kids," Thompson stated. "They're still kids. At Gateway Elementary School and Jonas, the kids are looking to come across more as young adults whereas here they're quite content to be kids."