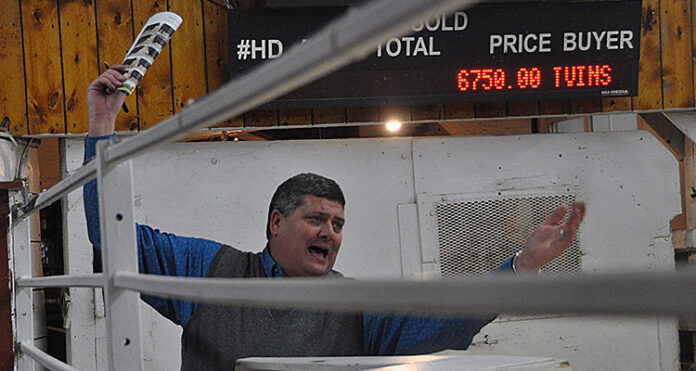 by Phil Ambroziak
"You have to think anyway, so why not think big?"
The quote may be attributed to U.S. President Donald Trump, but it also appears to be the mindset adopted by Brent Brooks of Northern Livestock Sales (NLS) whose recently rebranded company now heads up livestock sales operations in Lloydminster and Prince Albert in addition to Meadow Lake.
"When my sons, Blair and Brody, took over management of the day-to-day operations of Meadow Lake Livestock Sales (MLLS) in June 2016 and oversaw the erection of phase one of a three-phase facility upgrade, I realized it was time to expand or I was going to have to stay home," Brooks noted.
Brooks acquired the P.A. and Lloydminster operations from Heartland Livestock Services and officially took over the two locations Sept. 1.
"It came to be mainly through a mutual agreement that determined this would work out best for both parties," stated Stewart Stone, COO of Heartland Livestock Services. "This provides the operations in these two communities with an experienced manager."
Brooks, meanwhile, said activity at his new locations would continue as normal for the time being, adding there are many people already on board keen to do the best job possible.
"MLLS has been blessed with a knowledgeable, conscientious and long-term employee base that boasts a complementary mix of youth and experience," he said. "When the opportunity arose to acquire the operations of the Lloydminster an Prince Albert facilities from HLS, a long-term association with many of the existing employees made the decision to proceed easier."
Brooks also said, since he took charge of the stockyards in Meadow Lake in June 2007, he has been overwhelmed with the support he has received from the livestock producers of northwestern Saskatchewan and the communities of Meadow Lake, Flying Dust and surrounding areas.
"By combining the experience, youth and commitment of all three facilities, Northern Livestock Sales will provide the Northwest with a competitive, consistent and quality oriented livestock marketing system that will not only benefit livestock producers, but the buyers and feeding industry by ensuring they receive quality, properly sorted and handled cattle," he continued.
Brooks went on to say, by scheduling sale days and sale times, NLS provides buyers the ability to participate in all sales, all cattle haulers to network and allows the feedlots to have cattle delivered in proper condition and in a timely fashion.
"The future growth of Northern Livestock Sales will be measured in its ability to access, employ and educate quality and dedicated individuals who have a strong desire to make the Northwest home," he said.
Stone agreed.
"We just want to make sure good services for the producers in those areas (Lloydminster and P.A.) continue and Brent has the management capability to make that happen," he said. "For them, things will carry on as usual. They will continue to receive great service under Brent's expertise."