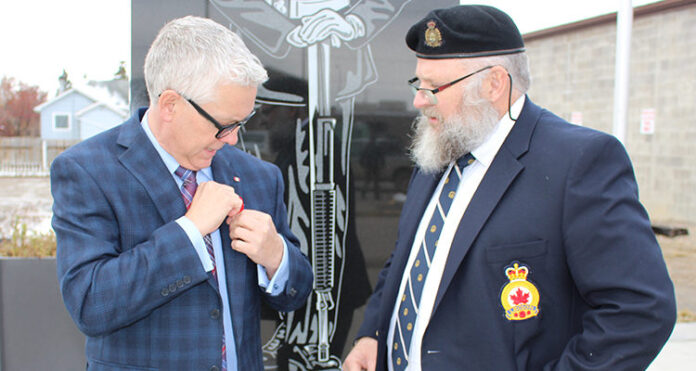 By Derek Cornet
With the first poppy pinned to the lapel of Meadow Lake mayor Gary Vidal, the Royal Canadian Legion's annual campaign is in full swing.
"For Branch 76, this year marks 90 years of service to the community and hopefully we served the community faithfully," said poppy campaign chair Chris Brownrigg. "This is the time we ask for their support, so we can continue to do the work of the Legion."
He went on to say poppies can be found at businesses throughout Meadow Lake with volunteers at different locations Oct. 26 and Nov. 4. He also noted people will be going door-to-door for donations and they can be identified by a Royal Canadian Legion volunteer tag. While donations for the campaign end up in a national trust, Brownrigg noted poppy funds have been a benefit to the city.
In the past, the Northland Pioneers Lodge, Meadow Lake Hospital Foundation and the 520 Meadow Lake Air Cadet Squadron have received funds. Most of the money, however, is reserved for veterans and their families.
"I want us to take care of each other," Brownrigg said when asked what people should be mindful of this time of year. "If we take care of each other, we'll send fewer of our sons and daughters into war in the future. Our primary mission at the Legion is to ensure remembrance and Canadians owe a big debt to those who have served and sacrificed their lives to this country."
The public are invited to the Remembrance Day ceremony Nov. 11 at the Meadow Lake Civic Centre. People can start arriving at 9:30 a.m. and the service will begin at 10 a.m.