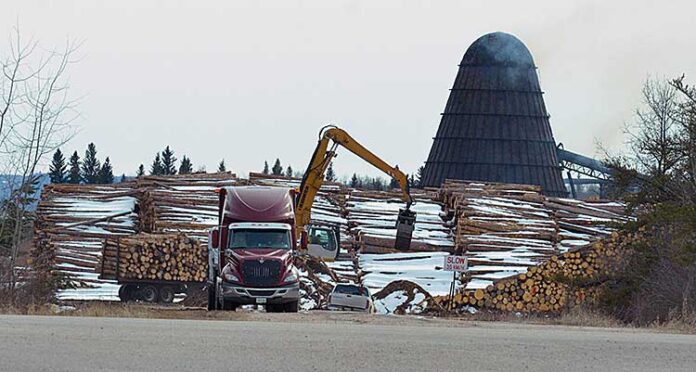 by Phil Ambroziak
"What doesn't kill you makes you stronger."
Al Balisky, president of Meadow Lake Tribal Council (MLTC) Industrial Investments – the company that oversees NorSask Forest Products – may not have directly quoted renowned German philosopher Friedrich Nietzsche, but he promises things will only continue to get better at the local sawmill in spite of what many could perceive as a major blow to the Canadian lumber industry.
Recently, the Trump administration imposed punishing duties on Canadian softwood lumber exports in response to complaints by the U.S. lumber sector that Canada subsidizes its forest industry. As a result, sawmills must pay countervailing duties averaging close to 20 per cent on lumber shipments to the U.S. beginning May 1. The U.S. Department of Commerce ruling of subsidy is the first of two blows expected by the Canadian softwood sector. A second anti-dumping duty determination is to be announced June 23.
"The key outcome to this is we have to up our game," Balisky remarked. "It will mean a significant squeeze on our revenue, but we intend to hang in there and keep the sawmill going in Meadow Lake. It's an important part of this community and to the surrounding area."
According to Balisky, NorSask currently exports close to 60 per cent of its product to U.S. markets.
"It's primarily 2X4s, 2X6s and eight and nine-foot studs we ship south of the border," he continued. "It's not just us, however who are affected. The U.S. has a broad swath of lumber producers who they've thrown this levee at. No question it makes things difficult for us, but it's not a show stopper."
Balisky went on to say, whenever the U.S. government has imposed similar tariffs in the past, it's had an effect on the Canadian industry, but has also served to inspire organizations like NorSask to buckle down in order to make up for any and all expected losses.
"That's the irony," Balisky noted. "Because of this, we'll end up with a more robust, more efficient mill."
He also said the recently rebuilt front end at the mill – which replaces a major part of NorSask's operation which was lost to fire early this year – will also help with obtaining those efficiencies.
"It will also help us keep competitive with other mills across Canada," he stated. "If we didn't do that, we'd simply fade away. That's not going to happen in the Meadow Lake area. Our recent rebuild is an asset to the company, and efficiencies will certainly be gained on that front."
As for whether or not the recently imposed levee will remain in place long term, Balisky said it doesn't appear it will be going away any time soon.
"When you enter into these softwood lumber agreements, there's always a dispute period after the agreement expires," he said. "Our most recent agreement expired in the last year or so and we're currently in a dispute period. I see this probably playing out over a number of years. I'd be surprised if it were suddenly settled."