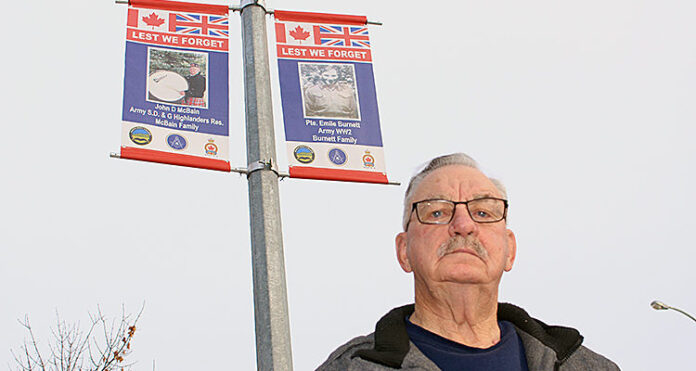 by Derek Cornet
Residents of Meadow Lake won't forget some of the local men and women who served in the Armed Forces anytime soon.
Twenty-three banners paying tribute to current and former members of the Canadian Armed Forced and RCMP were hung from light posts along Centre Street. They were put up last week and are in addition to the 16 banners installed along Highway 55 East, which commemorates the service of Flying Dust First Nation members. The endeavour was a joint project by the Meadow Lake Masonic Lodge and Royal Canadian Legion Branch 76.
"It's to salute and honour the veterans," lodge member George Wood explained. "They stood behind us and made the country what it is today, so we can live a more peaceful life. Veterans are important to a lot of people. Not only do people have family members serving, but for the rest of us who are enjoying the spoils now."
Wood had the idea of the banners three years ago after watching a news report of a similar project taking place in New Brunswick. Then, in February, his group approached city council with the plan and they approved it not long after. Wood stated Meadow Lake is the first community in Saskatchewan to also hang the banners.
At $250 each, the cost was absorbed by the families who were interested in having one displayed. The banners are designed to last for 10 years and those who purchased one will have the option of taking possession of it after four years or leaving it up for display. Two families already decided to keep theirs, but those banners are supposed to be displayed elsewhere.
"Since the banners went up, we had six more people indicate they want banners but they missed it for this year," Wood noted. "We put up more brackets on Centre Street for future development."
Wood went on to say he has heard many positive comments about the project, stating people would like to see them remain up all year instead of the four months as originally intended. He said, if city council agrees to it, they'll consider it.
John McBain – who has a banner of his own – would also like to see them kept up for the entire year. He served in the Stormont, Dundas and Glengarry Highlanders reserves and, while he never went to war, he trained to go to Egypt as the Suez Crisis with England was heating up.
"The banners are good for Meadow Lake and I'm sure it brings back a lot of memories for the older people and even some of the younger ones," McBain commented. "Everyone should pay their respect for the veterans and everyone who I know does. I'm talking about the ones who served overseas more so than myself. A lot of people do remember, but it's hardly ever talked about."