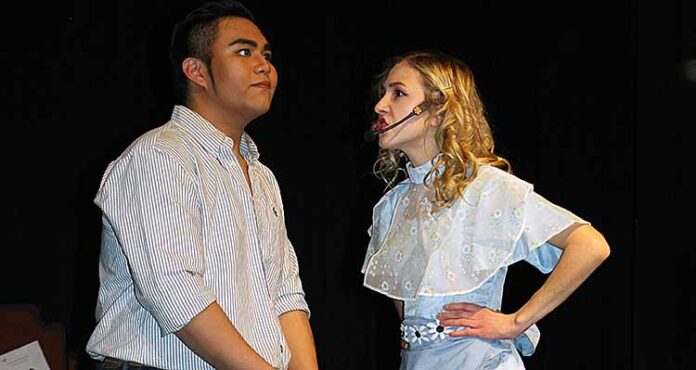 by Derek Cornet
A taste of the West was brought to the stage at Carpenter High School last week in a drama production which attracted the club's largest audience ever.
"We had the most seating capacity out of any performance we've had," said show director and teacher Dawn Benoit. "We had 178 people in the audience, so it was a full house."
Entitled Kiss Me, Cowgirl, the play centers on two characters named Bobby Rascal (Joshua Bobier) and Susie Hill (Keeley Willick). Rascal comes to the town to help the men find women and, in doing so, passes off poetry he says is his, but which actually belongs to William Shakespeare. Hill knows they're not his poems, confronts him about it and the two end up falling in love.
Described as having a country fair theme, Benoit said they chose to do a western because they haven't done anything like it before. She also said it's meant to prepare the cast for a regional competition next year, which will include a play with Shakespearean language.
"I would call it a spaghetti western with a bit of a twist because most of the songs don't fit into that genre," Benoit noted. "But, it's about trying to find love in a community where the women folk are being a little difficult about giving in."
The cast had been practicing the play twice per week for two hours since September. Actors also had to learn their lines at home, as the sessions were used to plan all the other components of the production.
"We thought, if we went with something they were comfortable with and added some language that was kind of foreign, they'll learn to see the benefit of it and appreciate it," Benoit remarked.
Grade 12 actor Lara Van de Venter said it made her feel good to see all the people who attended the two shows Dec. 7 and 8, adding all the money they're able to fundraise will be used to help with the spring production.
"I thought it went really well because it was fun, energetic and we had a really good cast," she said. "We always had lots of people who were talented in all aspects. We had a lot of singers and solos, which we don't always get. Everyone was pretty relaxed on stage and I had a good time."
Willick was also glad so many people came to watch them perform.
"There were more people than I expected and the feedback was awesome," she said.