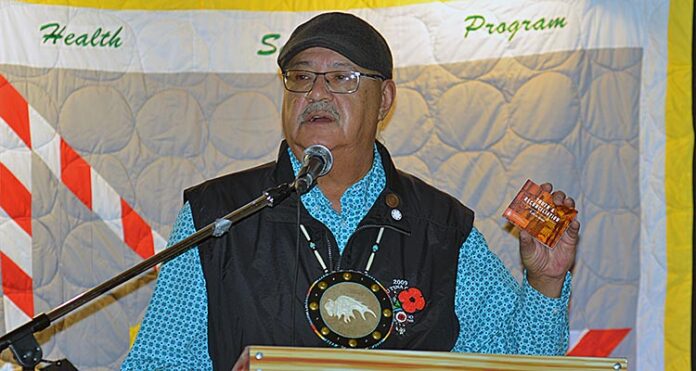 by Terry Villeneuve
A helping hand has been extended to residential school survivors from Saskatchewan's northwest.
First Nations residents affected by their time at residential schools and by the '60s Scoop attended a two-day healing journey conference Feb. 27 and 28 at the Flying Dust Gym.
"It was geared to residential school survivors and the '60s Scoop survivors and their families," said Robert Fiddler, one of the organizers of the event with the Meadow Lake Tribal Council. "There's a lot of information about the '60s Scoop now coming up in the courts, and we know a lot of our First Nation communities are impacted by that."
The conference is held annually for members from all nine First Nations.
"The workshop is about continuing the healing journey," noted fellow organizer Sharon Martell. "It's our first joint conference with the '60s Scoop, but we thought both groups would benefit from the information being presented."
Hoping for about 100 attendees, that number was well surpassed as 160 delegates were registered. Organizer Lucy Garr said a new presenter was also well received.
"I was looking through the evaluations and several people commented on Corinne Steven's talk," Garr said. "She's a mental health therapist here at MLTC and she spoke of her firsthand experience and how she overcame obstacles of her own trauma.She spoke on unresolved trauma and the intergenerational impact of their loved ones – all the way from grandparents to the young ones that have been affected. They really connected with her."
Another presenter was Eugene Arcand.
"Eugene has a lot of knowledge about the Truth and Reconciliation Commission and we thought having him update the Meadow Lake First Nations would be valuable information," Fiddler said.
One of 10 Saskatchewan representatives on the Indian Residential School Survivors Committee, Arcand was also an advisor to the Truth and Reconciliation Commission.
"I want to let you know what's happened since the implementation of the Residential School Settlement Agreement," he said. "I want to share with you because there are serious mistakes in the administration of it. I share this with you because we don't want the '60s Scoop survivors to go through the same thing. It's short-term gain for long-term pain."
He noted the average amount of compensation residential school survivors received is low compared to other provinces.
"That sickens me because 33 per cent of all residential school survivors are from Saskatchewan," he said. "Whether we went to school in Alberta, Manitoba or other provinces, a third of us were from here. As a matter of fact, for these people who say they had no idea these schools operated in this province, at one time there were 17 schools in operation in Saskatchewan."
Arcand showed attendees a little booklet with valuable information.
"This is a toolkit and in this toolkit are 10 principles of reconciliation, 46 articles of the United Nations declaration on Indigenous people and the 94 calls to action," he said. "This toolkit is the basis of how our children and grandchildren are going to move forward."
He said these calls to action, when read, are not only calls on the federal government, provincial government, municipal government, First Nation and Métis governments, but it's a call also to First Nations individuals too.
"For each of us to make a difference every day, and to not carry these calls to action as a burden, but to make a change in our communities and in our personal lives and I've adopted that challenge," he said.
He also said, if anyone wants access to their records, they're available.
"You don't have to go through the Government of Canada archives," Arcand said. "If you want your full file on what the missionaries wrote about you, what those teachers and supervisors wrote about you, they're there for you."