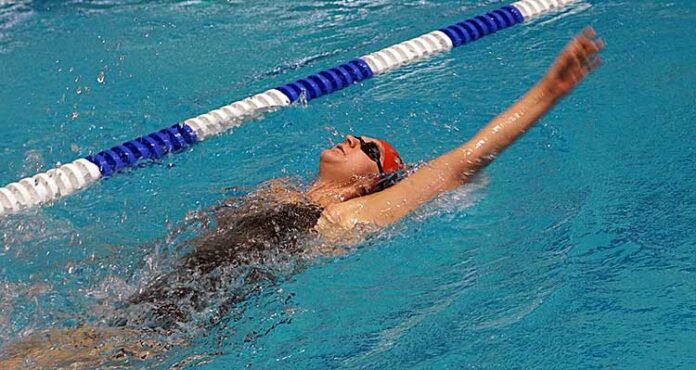 by Phil Ambroziak
A former Meadow Lake athlete is making a splash in the world of competitive swimming.
Recently, Nikita Ens captured a bronze medal and broke five records at the 2018 Canadian Swimming Trials in Edmonton. The meet took place July 18-22 and saw Ens take home the bronze in the 50-metre backstroke and set records in that same event, as well as in the 50-metre freestyle, 100-metre freestyle, the 200-metre freestyle and the 50-metre backstroke.
"The Canadian Swimming Trials were for the Pan Pacific Para Swimming Championships, which are now underway in Cairns, Australia," Ens explained. All the countries that border the Pacific Ocean get together to compete at this event and, even though I did quite well in Edmonton, I'm not allowed to compete at any international competitions because I'm still in my first year. One of my teammates, Shelby Newkirk, has broken world records and is in Australia right now. She's only 22 years old, but I like to call her my mentor."
Ens – who used to swim regularly and even served as a lifeguard at the Meadow Lake Aquatic Centre before a car crash in February 2014 left her a C5 quadriplegic – said it's a terrific feeling to be back in the water and to be actively competing in a sport she loves so much.
"I met Shelby at church one day and she invited me to the pool," Ens, who now resides in Saskatoon, said. "It was like a match made in heaven, but it was also very humbling at first because I move a lot slower in the water now than I used to. Still, I'm just so thankful I can swim and be involved in something athletic again. I did a little bit of track and field (after her accident), but I love swimming so much more. I still need help getting out of the pool, but being in the water allows me to feel so much more free and more independent."
Ens went on to say her results at the recent Edmonton event were very encouraging and she plans to up her game between now and next year so she can attempt to earn a spot at the 2019 Pan Pacific Championships.
"It was definitely a challenge in the beginning – I needed the encouragement of others, including my parents (Rod and Monica Ens)," she said. "But, for anyone in a situation similar to mine, if there's something you want to do, do it and trust in others to help you. Next year, the Pan Pacifics are in Peru. That's the next international competition and I plan to be there."
Ens first needs to be assessed by an international physiotherapist and, once given the green light, said she'll just work her hardest to perform to the best of her abilities.
"I also need to attend a training camp in Montreal in October, but the hardest part about preparing for the coming year will probably be taking charge of my diet," she added.
Until then, however, Ens will continue to train and said her success wouldn't have been possible without the help of some important people in her life.
"I need to acknowledge and thank my coach, Eric Kramer, at the Saskatoon Lasers Swim Club," Ens said. "He's been so supportive and his experience and specialized workout program have been essential. I'd also like to send a big thank you to my folks who have been there for me every day and to the people of Meadow Lake who have been cheering and praying for me, and sending me good thoughts. It's working."